3014 Dundas St W. | (416) 766-2178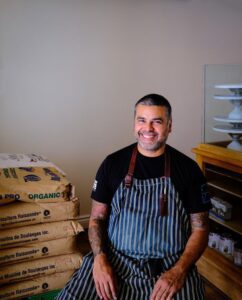 Business owner Daniel Saez has been a familiar chef across the Junction community. He has worked at such staples as Honest Weight and was head chef at The Beet, but he's always had dreams of running his own bakery. Noctua Bakery is the culmination of Daniel's dreams and hard work.
A huge book nerd, Noctua is named after his favourite bookstore in his hometown of Caracas, Venezuela. Daniel enjoys reading literature, philosophy, religion, and history. "Right now, [I'm reading] a lot of food history and bread science."
Daniel is a Cordon Bleu certified chef and has loved his career in cooking and running restaurants. While that experience has been meaningful to him, Noctua is his chance to pursue his passion for artisanal baking and sharing his craft with the community. "[Baking] is quiet, and it requires a lot of observation… Never rushing the process and respecting the method is crucial. And supporting locals too."
Noctua focuses on making artisanal bread, using natural fermentation, combining old and new world techniques and ingredients. "It takes a village to make good bread. I think using whole grains, grown here in Ontario, to boost the nutritional value, is what drives this whole endeavour. Michelle [my partner] is very aware of what we feed the kids, so I only make stuff I would feel comfortable feeding them."
Being the book lover he is, you can usually find him browsing the stacks at TYPE Books or Pandemonium. He's often asking Neil, owner of Pandemonium, to hold records for him to delve into later. "Currently Neil's holding some MF Doom (The Special Herbs series), the first recordings of Lee Hazlewood, The Marble Index by Nico and Holy Mountain by Sleep."
If you're looking for freshly-baked bread or chatting about Sons of Kemet, then check out Noctua Bakery at 3014 Dundas St W — near the corner of Dundas and High Park Ave. You can also check out Noctua's website or the Noctua Instagram for more information.
Member of the Month
Our Member of the Month features will shine a light on the businesses within the Junction and allow customers to get to know their neighbours who run the shops in our community. If you are a Junction BIA business interested in sharing your story with us and being featured by The Junction BIA, contact Carol Jolly, Executive Director.