The Junction Pop-Up Music Series
Get ready for an unforgettable experience as we gear up for the grand finale of our Pop-Up Music Series! The McMurray Avenue Finale Concert is on Saturday, September 9th, from noon to 11 PM, along McMurray Avenue. Brace yourself for an incredible lineup featuring the fantastic Kiwi Jr. and other talented performers. This jam-packed day of activities is designed for the whole family, with face painting, balloon twisting, and a Caricature Artist, ensuring something for everyone!
But that's not all! We're thrilled to announce the first-ever Taste of the Junction, a spectacular culinary event in partnership with the Stu Sells Realty Team. Prepare to indulge in a gastronomic extravaganza featuring 11 exceptional local businesses. From noon to 9 PM on McMurray Ave, you'll be treated to a delectable array of flavours and beverages that will tantalize your taste buds.
And the excitement doesn't stop there! On September 9th and 10th, we're hosting a neighbourhood-wide Sidewalk Sale that promises incredible deals and fabulous finds. The entire community will be buzzing with anticipation, creating the perfect atmosphere to explore, shop, and uncover some real treasures.
So mark your calendars and get ready to groove, savour, and shop your way through the Junction on Saturday, September 9th! It's a day filled with music, culinary delights, and unbeatable deals – an explosion of joy and community spirit. Don't miss this chance to be a part of something special as we celebrate local talent, flavours, and the vibrant energy that makes the Junction truly unique. Join us for a day you'll remember for years to come because when the Junction comes alive, there's no stopping the fun!
We are excited to announce our partnership with Nova's Junction Revue to launch The Junction Pop-Up Music Series! This community-based music series will run every Saturday from June 3rd to September 9th, between 2 PM to 4 PM. The series will feature 15 FREE performances suitable for all ages, easily accessible in the Junction, and staged safely in various outdoor and retail locations. Artist and venue details to follow on our social media channels. We aim to revitalize the live music scene and attract foot traffic to local businesses.
This project has been funded by the City of Toronto's Main Street Innovation Fund, as part of Government of Canada support through the Federal Economic Development Agency for Southern Ontario.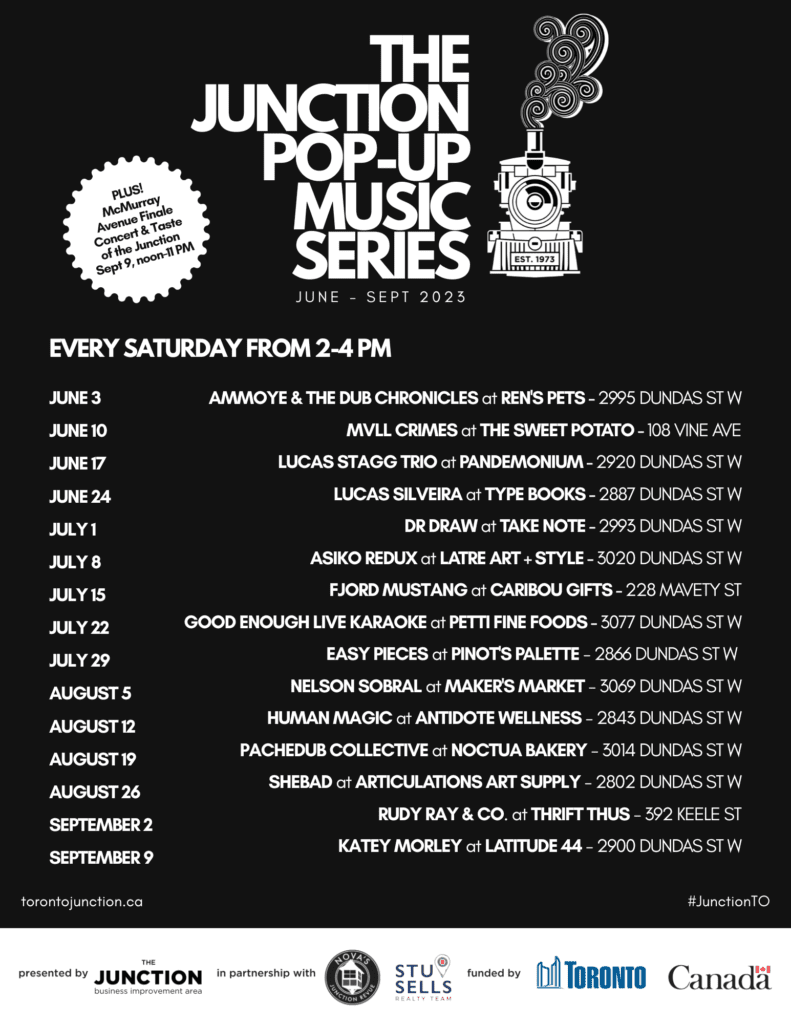 *Live documentS and frequently updated. 
About Nova's Junction Revue
Michael Novalski began Nova's Junction Revue in 2019 as a monthly live music series at Junction City Music Hall showcasing emerging independent musicians. However, in the summer of 2020, the social restrictions imposed by COVID-19 closed music venues and Novalski turned to the laneway behind his house on McMurray Ave to host ten small-scale live performances for neighbours. Each performance was recorded on a reel-to-reel machine, filmed, released online and the response that summer urged Novalski to organize the first community-wide Mcmurray Ave Finale Concert. Novalski continues to organize shows all year round within the Junction and is proud to host the fourth edition of the annual event on September 9!