342 High Park Ave | (416) 875-2621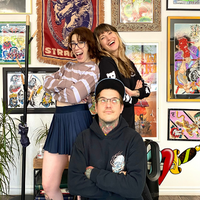 After years of working in different tattoo shops around the GTA, business owners Monika, Caroline, and Peter wanted to create a welcoming tattoo space. "We didn't want to feed into that outdated stereotype of tattoo shops being this hard, tough, intimidating place."
The tattoo industry is small in Toronto; Monika and Caroline had met working at another tattoo shop, and Peter and Caroline are life partners. Wanting to make a living off of their art, they came together and opened Peekaboo Tattoo in November 2019 at the corner of High Park and Dundas West. "We were bound to join forces and start something together. We have the same values and standards as far as how a shop should operate, which made getting everything started a piece of cake."
They gather a lot of their inspiration from reference books of old-school traditional imagery, beautiful traditional Japanese artwork and — the biggest one — Instagram. "It's so great to be able to see what people are creating across the world."
Outside of tattooing, they love a good cottage getaway and park adventure. You can find them at local restaurants in the Junction like When the Pig Came Home and 3030. They're also a dog-loving bunch, as there are two Doberman Pinschers and two English Bull Terriers between the three of them — they love to frequent MollyWagz. "We adore the neighbourhood and try to support local businesses as much as we can!"
The core of their business is to destigmatize the rough image of tattoo shops. "'Peekaboo' sounded fun, friendly, and lighthearted; qualities that don't often fit that old stigma of 'scary tattoo shops'… No "cool guy" attitudes here." 
Here's some advice they recommend for anyone getting their first tattoo:
"Get a good night's sleep, have something to eat beforehand, and don't panic! It's never as bad as you're anticipating!!"
So, if you're looking to get your first or fortieth tattoo, visit the Peekaboo Tattoo shop — located at 342 High Park Ave. You can also check out Peekaboo Tattoo's Website or the Peekaboo Tattoo Instagram page for more information. Finally, if you're not ready to commit to a tattoo, check out the Peekaboo Tattoo Shop to purchase some original artwork.
– Chris Middleton, Journalism Intern, The Junction BIA
Member of the Month
Our Member of the Month features will shine a light on the businesses within the Junction and allow customers to get to know their neighbours who run the shops in our community. If you are a Junction BIA business interested in sharing your story with us and being featured by The Junction BIA, contact Carol Jolly, Executive Director.