3035 Dundas St W.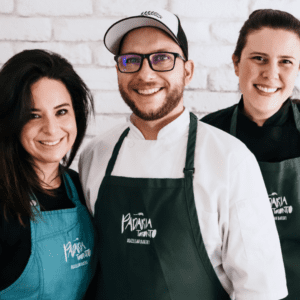 Fabiana Del Bianco, Tiago Del Bianco, and Maria Cardinalli dos Santos started Padaria Toronto in early 2020. Arriving in Toronto about five years ago, Fabiana and Maria developed their interest and passion for food and hospitality while studying Culinary Management at George Brown College. At the same time, Tiago already had experience running a restaurant in Brazil. Noticing a lack of Brazilian food options in the city and wanting a place to focus on the creative side of the industry, the group decided to fix the problem and fulfill their goals by opening a Brazilian bakery (padaria, meaning bakery in Portuguese). For Fabiana, Maria, and Tiago, Padaria would be more than just a place to sell food; it would also be a place to share their knowledge and passion for Brazilian food and culture across the city. Despite opening during the pandemic, Padaria has been an enormous success. In June 2022, they opened their second location in the Junction because they were attracted to the area's strong local business community, great location, and proximity to many of Padaria's existing West End customers.
Padaria's specialty is Brazilian snacks. Everything you find here is homemade and authentic, whether sweets, pastries, bread, or sandwiches! Padaria's most popular item is Pão de Queijo, a delicious gluten-free cheese bun made from tapioca flour, creating plenty of converts. Another "can't miss" treat is Brigadeiros, the national truffle of Brazil, made from condensed milk, cocoa powder, and butter, with a healthy layer of chocolate sprinkles covering the outside.

There are plenty more specialties, such as the gorgeous custom wedding and birthday cakes that Padaria can prepare for special occasions. A mini-market full of imported products provides space to showcase items from Brazilian small businesses, and you can also pick up prepared meals, plus ready-to-bake versions of their famous treats to enjoy Padaria's delicious flavours at home (Brigaderios cookies sound particularly appealing). By collaborating with local chefs, Padaria is constantly updating its lineup with unique and thoughtful snacks that show off the incredibly diverse food traditions of Brazil, and these collaborations are usually accompanied by a weekend of fun and music.
Because the main objective for starting Padaria was to create a place where Brazilian culture could be shared with all, the team at Padaria is delighted now that most of their customers are non-Brazilians. Even if the store will always be a 'home away from home' for Toronto's Brazilian community too, in their free time, Fabiana, Maria and Tiago enjoy cooking, learning more about food, and entertaining. Whenever they're in the neighbourhood, the group always goes to Honest Weight. They consider it one of the best restaurants in the city, and they always have a fantastic time there! For their self-care needs, they love to stop by Gossips Hairstylists and Lucy Nails in the Junction. 
You can find the latest information from Padaria on their website, Facebook, and Instagram. There's always something tasty and new to check out, plus with the Holidays approaching, you can expect to see classic holiday drinks and snacks, like the mouthwatering Brazilian Panettone, return shortly.

Written by: James Watson
Member of the Month
Our Member of the Month features will shine a light on the businesses within the Junction and allow customers to get to know their neighbours who run the shops in our community. If you are a Junction BIA business interested in sharing your story with us and being featured by The Junction BIA, contact Carol Jolly, Executive Director.