406 Pacific Ave.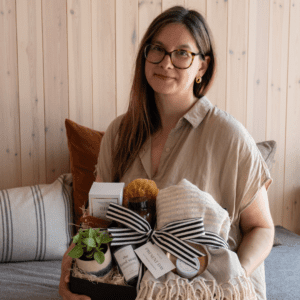 Sophia Pierro has been passionate about design, aesthetics, and pretty things since childhood. After graduating from film school, she worked as a set decorator in Toronto for many years. In that role, Sophia often came across beautiful local products made by skilled artists throughout the city. However, there needed to be more connection between the unique products that Sophia encountered and the ordinary things that she would see in stores, especially those that were available as gifts. To fix this problem, in 2015, Sophia decided to leave the busy and stressful demands of the film industry and use her years of experience decorating sets and love of practical design to create Toronto's first curated, personalized gift-giving service – Present Day Gifts. Eight years later, Present Day Gifts has become Toronto's premier destination for creative, high-quality gifting featuring a modern and refined collection of gift baskets, which are always full of lovely local products.
Don't worry if you don't have the time to order custom gift baskets, as Present Day Gifts also sells ready-made baskets for whatever occasion you need. Meanwhile, corporate clients like Amazon Studios, Google, and First National Financial use Present Day Gifts to prepare one-time and recurring gifts for clients and staff. No matter the recipient, they all benefit from Present Day's unique approach to every client, quick turnaround times, creative concepts, and attention to detail in every basket. Plus, since most of the products in the baskets come from small producers and local artists when you buy from Present Day, you are also supporting an entire network of small businesses.
Because of Sophia's background in the film industry, some of Present Day's clients even include celebrities since old contacts use Present Day for cast gifts when a new TV or Movie production comes to Toronto. Because of this, Present Day has crafted gifts for Cate Blanchett, Arnold Schwarzenegger, and Jude Law.
Sophia's latest hobby is her second business, Baa Bazaar, which sells whimsical and comfortable homewares and gifts in the Junction. Baa Bazaar gives Sofia another place to showcase her passion for interior design and beautiful local products, and is the more free-spirited sibling of Present Day. Sofia often finds decorating and design inspiration at Mjolk and goes to TYPE Books with her family nearly every weekend since they live nearby. Starting a business – let alone two, isn't exactly stress-free either. However, Sophia is happy to have built a company where she can do what she loves. She enjoys seeing the happiness created when thoughtful gift-giving is beautiful, easy, and fun!
You can find more information about Present Day Gifts, their excellent products, gift baskets, and inspiration for your next gift at their website and other links here.
Written By: James Watson
Member of the Month
Our Member of the Month features will shine a light on the businesses within the Junction and allow customers to get to know their neighbours who run the shops in our community. If you are a Junction BIA business interested in sharing your story with us and being featured by The Junction BIA, contact Carol Jolly, Executive Director.