New Bench Installation is Now Underway in the Junction!
 As part of The Junction BIA's 50th Anniversary and in keeping with our Streetscape Master Plan, all existing benches within our boundaries will be removed, and new benches will be installed. The project is now underway and will continue until all 34 new benches are installed before April 21.
We are replacing all of the old and worn-out benches with new ones to provide a more comfortable and equitable seating option for all residents and visitors.
This project is being carried out in partnership with the City and is a capital cost-share initiative. The new benches will enhance the pedestrian experience by creating a more active and inviting environment where people can rest, socialize, read or enjoy the surroundings. Our aim is to create more meeting places and add consistent branding to the area.
The first new bench was installed on Monday at Mavety/Dundas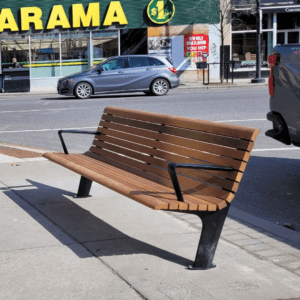 Please take a look at the map here to learn the planned placement of the new benches.
The Generation 50 bench by Landscape Forms was selected for its elegant detailing and perfect proportions.  The Generation 50 bench meets the City of Toronto's guidelines for accessible seating with a high, comfortable backrest and armrests perfectly proportioned for accessibility.  The Generation 50 bench legs and arms are made of cast aluminum with angular, diamond-shaped detailing.  The wood is curved at the face and back for comfort, and cantilever support was selected to remove any obstructions from the line of travel.
The Generation 50 bench pays homage to the design, culture and craft that is at the heart of Landscape Forms while taking advantage of the manufacturing expertise and new technologies that characterize Landscape Forms as a Modern Craft Manufacturer. 

Interested in a Commemorative Bench Plaque?
The Commemorative Bench Plaque program allows the public to pay tribute to a person(s) or occasion by purchasing a stainless steel plaque for installation on a new Junction BIA bench.

Size: 8" w  x 2" h / Material: Stainless Steel / Fee: $1,750.+HST

A one-time fee for the life of the bench. You'll need to pay after the location is approved and before installation. Only one plaque is permitted. Advertising or promotion is not allowed. The plaque will be provided and attached upon approval by both parties. Four lines maximum – text only. If interested, please get in touch with us at office@torontojunction.ca.