What is feed it forward?
Feed it Forward, located at 3324 Dundas St W in The Junction, may be the world's first pay-what-you-can grocery store, bakery and coffee shop. Certainly the first in Toronto, there are no prices here, everything is donated, most of it is organic and everything is PWYC by donation.
Run by Chef Jagger Gordon and a team of volunteers, the project was inspired by the amount of food wasted after catering gigs and the statistic that 40% of food produced in Canada ends up in the landfill while one in seven Canadians goes hungry.
Feed it Forward also runs the Soupbar at Humber College, an on-campus pay-what-you-can soup bar offering healthy and delicious soups made from rescued food which otherwise would be sent to landfills. Further, Feed it Forward helps provide healthy meals to new refugees to the country, and will be hosting Christmas once again for all throughout the GTA, offering meals and gifts to over 6000 people.
How Can you help as a business? 
Feed it Forward' is not-for-profit programs which rely on volunteers with a social-justice, common-sense mentality. If you are a restaurant, café, grocery store, or food manufacturing facility that routinely throws away consumable food items, consider joining the growing network of food donors who are already making a difference. If you are the owner of a commercial kitchen or freezer facility, please consider offering your space for their team of qualified chefs to prepare meals for both programs or as a place to store the monthly meals for qualifying individuals and families.
Volunteer!
Feed it Forward is 100% volunteer-run.They need volunteers to help run their programs. This winter, you can volunteer to support them with meal prep at Humber College, with their Sunday Dinners (and lunches) with Dignity in Roncesvalles, or their upcoming Christmas Dinner at Roncesvalles United Church!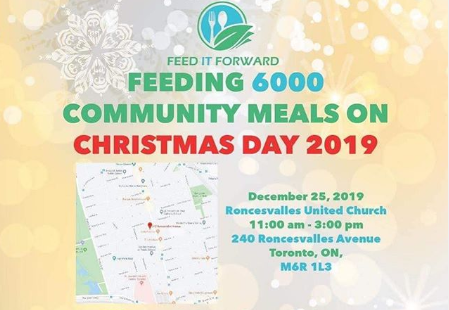 To sign up, email victoria@feeditforward.ca. 
See here for more information on volunteer opportunities.