2879 Dundas St W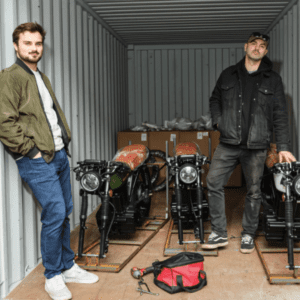 Fate brought Ben Taylor and Steve Payne together three years ago in a chance encounter at a local coffee shop. Ben had been working since 2016 on a brand that would not only revive the motorcycle culture of 1960s California but would also resonate with modern trends and lifestyles. Meanwhile, Steve had been working for himself for many years as a professional musician, so the decision to work independently came naturally to them both. But most importantly, they both shared a passion for bikes, had the technical knowledge to get it done, and insisted that the bikes be electric. The pair quickly decided to work together, and later that year, Beachman was off to the races! Wondering where the name originated? Ben wanted the brand to sound like a person's name, and since California is pretty well known for its beaches, Beachman was a natural fit. The core of Beachman's identity would be the perfect, easy-to-ride racer, a motorcycle that people would want to ride every day.
After that, it was time to get to work!
Beachman's first prototype, affectionately known as Bike Zero, was finished a year into the business. Based on a modified 1979 Kawasaki KZ200, Bike Zero featured a battery system hand-built by Steve. Knowing that they had something special, Ben and Steve found a factory that trusted their vision and ordered thirty bikes, built with standard parts but designed to be as close to Bike Zero as possible. As a result, the first batch of e-bikes, known as the founders' edition, was a huge success. Just two weeks after being delivered, they sold every single e-bike! 
Since then, Ben and Steve have been working around the clock to turn their vision for Beachman into a reality. It doesn't matter if that means travelling across the country to get the perfect shot of their bike racing down the motorway or building a retail location in the heart of the Junction. Inside the shop, you can get your bike serviced, ask about Beachman's available bikes, and browse their selection of helmets, gloves, t-shirts, and keychains. Everything there complements the 60s lifestyle Beachman embodies, is designed at Beachman's Toronto studio, and is built to last. So what's next for Beachman's? Set to be available this summer, their next bike, the 64, promises to be even better than anything before it.
When they aren't at the store, you might find Ben and Steve at nearby Bothams or grabbing a quick lunch at Tam Vietnamese during a busy day. When he isn't experiencing the adrenaline rush biking provides, Ben has an equally "relaxing" hobby, skydiving! Meanwhile, Steve puts his creativity to good work at his recording studio, where he works as a professional musician.
It's been quite the journey for Beachman over the last few years, but there's also so much more to come. You can check for news on their website or Instagram page, and they'll be happy to have you come along for the ride.
Written By: James Watson
Member of the Month
Our Member of the Month features will shine a light on the businesses within the Junction and allow customers to get to know their neighbours who run the shops in our community. If you are a Junction BIA business interested in sharing your story with us and being featured by The Junction BIA, contact Carol Jolly, Executive Director.