2843 Dundas St W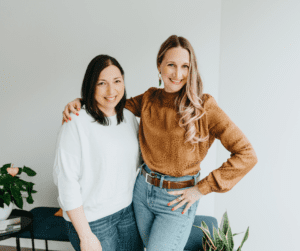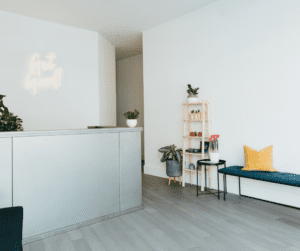 After years of experience in the health and wellness industry, Amber Lalone and Tanya Dei Tigli decided it was time to take a chance on themselves. They came together with a vision for what Wellness could be and how it could best serve the Junction Community and opened the doors to Antidote Wellness Lab in August of 2021. The Lab has a chic modern vibe and centers the client in a whole Wellness Experience, offering a retreat from the hectic modern world and a chance to rejuvenate and enhance one's life.
What was the inspiration behind starting your business? 
Amber: My vision for Wellness has always been to create a crazy cool atmosphere in a beautifully decorated space, where everyone feels welcome and where I could use my customer service skills in some way to pay my bills. With my past experience in the wellness industry and Tanya's years of experience and talent as an amazing Osteopathic Manual Practitioner, a wellness-based business with her seemed like a no brainer. 
Tanya: My small business vision was to create a space where everyone is welcome – patients and staff alike. A place where staff feel supported and never alone. An environment to learn, collaborate, grow and feel supported. I knew that I could not do this alone and waited not only for the right time but, more importantly, to do it with the right person. Amber has the same vision I do, and she is the brains behind the "crazy, cool wellness lab brand" we are creating. 
Why did you decide to become a business owner? 
Amber: I personally have dreamed of running my own business since I was a little girl playing store with my sister. Like so many people during the pandemic, I spent a lot of time reflecting and decided it was time to make my dreams a reality. I took my decade of experience in the industry, saw the opportunity of what was missing and how we could improve the Wellness experience for all and Antidote was born. 
Tanya: I wanted to be able to share my knowledge, and help other practitioners grow, learn, and feel supported. I always wanted to create a space where I could mentor and where I could also be mentored. The best growth happens when we share our experiences regardless of our level of experience because there is always something to learn. 
How did you come up with the name for your company? 
Amber: I hate to admit it, but our name was technically my partner Ryan's idea. He had an idea for a motorcycle shop but thought the name was better suited for our wellness business.  We both agreed and added the Wellness Lab. 
A close second for our name came from one of my best friends, and although it didn't make it as the name, it became our slogan and a beautiful piece of glowing neon art at the entrance of the Wellness Lab. 
Tell us one interesting fact about you or your business. 
Amber: Because we opened during the pandemic, we were concerned that it would be hard to find someone to complete the renovation work that we needed in a short time before opening. We asked a contractor that had done some work at my home to come by and take a look… turns out his wife's grandmother once owned the space. It was serendipitous… he couldn't say no, and he did a great job. 
What does your business specialize in? 
Amber: The foundation of our business is Osteopathy, we currently have 4 very experienced OMPs on staff, but we have also built a super solid team of other practitioners, including Physiotherapists, Registered Massage and Craniosacral Therapists, Acupuncturists and Naturopaths. We don't just specialize in Wellness, but in the Wellness our clients need. It's not a one size fits all solution, I take pride in getting to know our clients and providing tailor made solutions for them. 
Tell us about a business in the Junction that you love to frequent (other than your own). 
Amber: There are so many amazing businesses in the Junction that it's hard to choose just one, so I would say Full Stop and Cool Hand of a Girl. I just love their vibe and chatting up their friendly staff/owners. For Tanya, I'm going to say Noctua because I know how much her husband loves their baked goods. Ha!
Tanya: Noctua definitely – he is on a first name basis now when he walks in! LOL
Any final thoughts?
Tanya: We hope that you pop in, get a tour of the space and give us the chance to know you better. Amber is always down for a chat and finding ways that wellness can enhance your life or provide the relief you are seeking. Wellness really is for everyone, and we look forward to providing that for the Junction. 
You can also check out Antidote Wellness Lab on Instagram or book an appointment on their newly designed website.
Member of the Month
Our Member of the Month features will shine a light on the businesses within the Junction and allow customers to get to know their neighbours who run the shops in our community. If you are a Junction BIA business interested in sharing your story with us and being featured by The Junction BIA, contact Carol Jolly, Executive Director.