2828 Dundas St W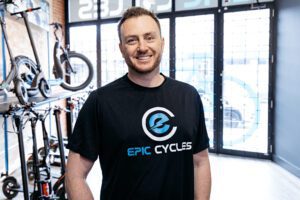 In 2017, Barry Nisan was looking to start a cutting-edge business in an industry he was passionate about. This is when he first heard of electronic bicycles (e-bikes). An avid cyclist from a young age, he saw in e-bikes an emerging industry with the potential to grow rapidly and change society. The following year, Epic Cycles was born. Their Junction location is their second location opened at the end of 2020.
Where did that name come from? Barry wanted something exciting for his store that started with the letter E. So when he was hitting the slopes in Whistler, BC, he looked down at his ski pass entitled "Epic." It was fate – and combined with biCYCLES; he got Epic Cycles!
In just a few years, Epic Cycles has grown quickly, becoming the largest supplier of e-bikes and scooters in Canada and shipping all over the country. They are the master distributors for both Magnum and Blue Rev electronic bicycles. With hundreds of bikes and scooters in stock, you are guaranteed to find something that suits your needs – whether you are a student looking to fly around campus or a commuter looking for a safe, fast, and dependable option to travel to work. Epic Cycles only carries the best products full of innovative technologies that decrease charging time and weight while increasing speed and convenience. In addition, you will find a wide range of accessories here to complete your e-bike or scooter kit, from grips to gloves, helmets, and lights!
Helping Epic Cycles takeoff is the fact that Canadians have proven to be enthusiastic and knowledgeable adopters of this innovative form of transportation. Canadian cities are eager to adopt green transportation solutions that reduce their reliance on cars. E-bikes and scooters certainly fit the bill, offering a safe, green alternative to conventional vehicles while providing the convenience of motorized transportation.
Barry enjoys jet skiing, waterskiing, and zipping across Toronto on his E-bike when not at the shop. You might also find him hanging out at local restaurants, such as Shoxs Billiard Lounge, across the street from Epic Cycles. If you are looking to up your transportation game and reduce your carbon footprint, head over to Epic Cycles. With their expert advice and huge supply, you will be sure to find an e-bike or scooter that is right for you.
You can find out more about Epic Cycles on their website and Instagram page.
Written By: James Watson
Member of the Month
Our Member of the Month features will shine a light on the businesses within the Junction and allow customers to get to know their neighbours who run the shops in our community. If you are a Junction BIA business interested in sharing your story with us and being featured by The Junction BIA, contact Carol Jolly, Executive Director.