3064 Dundas St W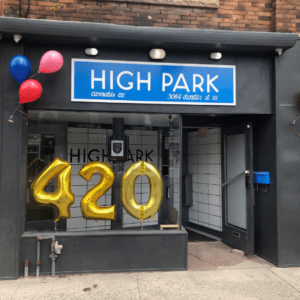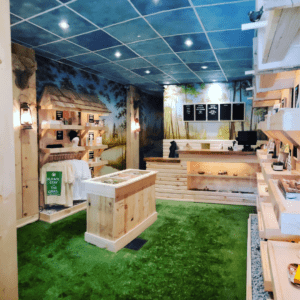 Long-time friends Drago Nagoda and Alex Sengupta opened High Park Cannabis Co. in April 2021. The pair first met in Grade 9 at Humberside Collegiate Institute, just down the street. So when we say long, we mean it! Drago and Alex had wanted to start a business together for some time and saw an opportunity with the quick spread of cannabis stores that began a few years ago. Their concept for the store, as Drago said, was a simple one. "Here's a remarkable plant that is safe and can do good for the mind and the body. So let's not only share it, let's champion it." The opening has undoubtedly been successful with a dedicated team, an inclusive environment, and strong product knowledge.  The first thing you might notice at High Park Cannabis Co. is that the design seems familiar, and this is intentional. The two wanted the store to be welcoming by integrating it into the community. To do this, they based the design on another local landmark, High Park Station. Just don't get the two mixed up!
Alex and Drago's belief and passion for cannabis products come from personal experience. A family member of Alex prescribed CBD (a cannabis derivative) for medical reasons, so they are well aware of the health benefits cannabis products can have. As a result, at High Park Cannabis Co., you will find a different range of products than you think of when you hear the words 'cannabis retailer.' There is much less focus on smoking and getting high and more emphasis on selling products with therapeutic effects that can be useful to everyone. Examples include muscle creams, hand lotions, and bath bombs, all designed for rest and relaxation without any psychoactive effects. Keeping with their experience and philosophy, High Park Cannabis Co sells some medical CBD products at cost. The pair also take education and outreach seriously, seeking to develop an educated, informed narrative about cannabis products and follow the latest research so they can always stock the best products.
As if starting one business wasn't enough work, Drago and Alex opened another, inaugurating the Junction Underground this May at the former location of Junction City Music Hall (2907 Dundas St. W.). Newly renovated Junction Underground is a space where people can continue their night out after enjoying a meal in the area. Some of Alex and Drago's favourite stops include Dirty Food, The Alpine, and Bunners. Junction Underground has a full slate of upcoming events, including live music, DJ performances, and specialty nights, such as karaoke and standup comedy. Since the spot just opened, the pair is looking for feedback from locals on how they can improve, so go check it out!
It's been just over a year since Drago and Alex became members of the Junction business community. However, in that time, their long ties to the area, dedication, and ability to handle multiple projects have already positively impacted the neighbourhood.  With so many things going on, it can be hard to keep up, but you can follow the latest High Park Cannabis Co. updates on their website and keep tabs on Junction Underground events here.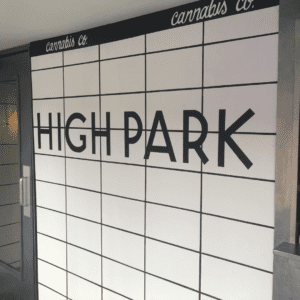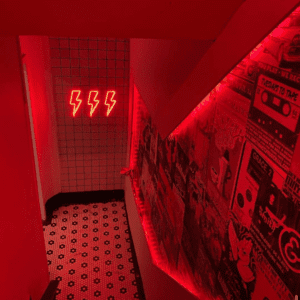 Left photo: High Park Cannabis Co. | Right Photo: Junction Underground
Written by: James Watson   
Member of the Month
Our Member of the Month features will shine a light on the businesses within the Junction and allow customers to get to know their neighbours who run the shops in our community. If you are a Junction BIA business interested in sharing your story with us and being featured by The Junction BIA, contact Carol Jolly, Executive Director.