New Augmented Reality Mural
We are so excited to share Toronto's first-ever interactive augmented reality mural, designed in partnership with local artists Jasmin Pannu and Jeca Martinez and internationally acclaimed AR app, ARTivive. Situated at 2853 Dundas Street West, the mural's overarching theme will celebrate summer in the Junction, showcasing the neighbourhood's art-centric community with  60's retro-inspired psychedelic pop art!
This mural also marks the opening of CaféTO! The Junction will be transformed into a patio lovers paradise with 52 unique patios and over 17,000 square feet of additional outdoor dining space and immersive activities. Elevating the pedestrian experience for residents and visitors alike.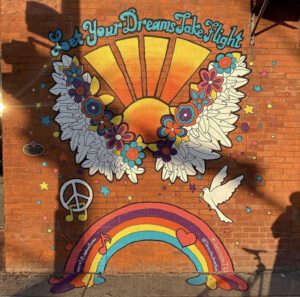 Post a snap with it and tag us at @torontojunction and #JunctionTO!