3070 Dundas Street West | 1-416-855-3393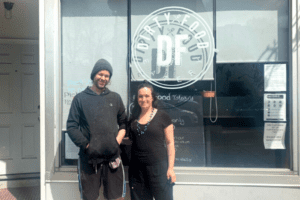 People come from all corners of Toronto to find a spot in Dirty Food's intimate, rustic interior. The pair have been cooking up cozy, homestyle brunch for the Junction for a few years now, and Dirty Food has become a staple of the must-visit brunch scene in the city. Leslie and Jon are both hospitality buffs, being in the restaurant industry since the age of 15 – even when Leslie pursued Journalism in university, food was always on her mind and the page. While breakfast food wasn't always the plan, the pair have been deeply immersed in and in love with the ins and outs of the industry for a long time, beginning their catering company together seven years ago. Jon had grown up in Etobicoke and Leslie at Keele and Bloor, and the Junction was a familiar place to pursue their dream of opening a restaurant. Nowadays, the desire is still there but now it is for some more distanced options...
Instead of the classic Dirty Food menu fans have come to love, Leslie and Jon have been cooking up unique and equally delicious menus neatly curated with a few feature items. Each week you can look forward to a different eggs benny, sandwich, and grilled cheese. Some weeks it may just be a slight, thoughtful twist, like subbing a bennies biscuit for a bagel. Still, often you see Leslie and Jon entirely reinvent a dish in mouth-watering ways, like their Benny Rancheros that sits on top of a crisp tostada and a bed of refried beans, drenched in lime hollandaise. Each week the menu feels like a new adventure, but not too much to overwhelm your eyes before the first or second cup of coffee has touched your lips. Not to mention their new Friday night dinner series leaves irresistible smells lingering throughout the neighbourhood late into the night.
The pandemic, while frustrating, has allowed Dirty Food to flex it's creative muscles and innovate on what made them such a solid addition to the neighbourhood in the first place. Even beyond the to die for menu, hot sauces, preserves, organic eggs, meal kits, etc., are all available as well to take a piece of Dirty Food home with you while the breakfastwich has settled in your stomach. Orders are available online at www.dirtyfoodto.com and over the phone.
-Riley Wiley, Journalism Intern, The Junction BIA