2879 Dundas St W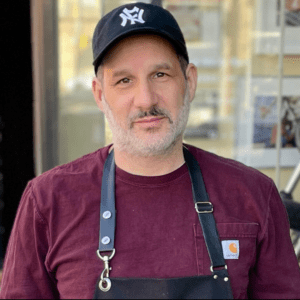 "Coffee made for everyone – that's my motto!"
When the pandemic hit, Joe Gallo, like many of us, was stuck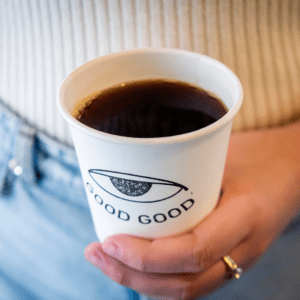 at home consuming obscene amounts of coffee after being laid off. So with time and motivation to bridge the imposing gap between his two sides – being a specialty coffee nerd and an everyday coffee drinker – Joe set out to roast his delicious small-batch, single-origin coffee beans. With that, Good Good Coffee Company was born.
Joe is not new to the small business world. He watched his father own and operate restaurants growing up. "I guess it rubbed off on me. Being exposed to this from a very young age, I saw firsthand what it was like to serve a community. What it was like to become part of a community while doing what you love – that's probably the main reason I became a business owner in the first place."
Launched in December 2020, Joe's original business model focused on wholesale and e-commerce only. Feet to the ground, he knocked on doors and managed to secure multiple wholesale accounts with local coffee shops within the first two months until he was presented with his first retail space opportunity in the Summer of 2021. He decided to alter the traditional model and opened the first Good Good Coffee Bar at 2879 Dundas St W, sharing the space with another new retailer. "I still strongly believe that co-retailing is the future of retail, especially in a city like Toronto." At the same time, he was thrilled to be returning to the Junction. Joe owned and operated the popular Pacific Park Social (coffee + sandwich shop), which once stood at Dundas & Pacific until they closed in 2018, so returning to the neighbourhood with Good Good Coffee Bar would put that unfinished business behind him and allow him to look towards the future.
Simply put, Good Good Coffee Bar provides specialty coffee without being pretentious. He found that third-wave coffee roasters were producing amazing coffees, but they missed opportunities to connect with new customers because they were too intimidating. "I wanted a place where we could produce high-quality coffee by sticking to the KISS acronym (Keep It Simple and Straightforward)," says Joe. "You know, let your product speak for itself. There is no need to bring in 10 different beans or hide behind sugary syrups." It's not surprising how he got the name. "It just hit me one night … Good Good just felt right. Mostly, I just liked how it sounded. Good. Good."
Joe loves watching films and frequenting his favourite Junction businesses in his free time. So you may see him out for a drink and some late-night food at Hole in the Wall, chowing down on some old-school gnocchi at Nodo Junction, watching Ryan be a "ninja in the kitchen" at When the Pig Come Home or browsing in awe at Brian's passion and eye for fashion at Latre Art + Style.
Now, he's looking to move spaces before May and share a new space with another business here in the Junction. By building partnerships, Joe believes that business owners can help each other out, providing more immersive retail experiences and sharing customers. But no matter where Good Good Coffee Bar ends up, at 2879 Dundas W for the next few months or somewhere new afterward, be sure to pop by and say hi. If you're a coffee hobbyist, he'd love to talk coffee with you, and if you're a bit new to the coffee game, he'll be sure to send you home with some advice and a bag of their single-origin beans. It's never too late (or early) for a cup of joe!
If you want to know more about Good Good Coffee Bar, you can check out their website or follow them on Instagram.
Member of the Month
Our Member of the Month features will shine a light on the businesses within the Junction and allow customers to get to know their neighbours who run the shops in our community. If you are a Junction BIA business interested in sharing your story with us and being featured by The Junction BIA, contact Carol Jolly, Executive Director.