For Sale:
30 large, black self-watering planters with recommended Pro-Mix BX growing "soil" medium. These planters are suitable for Business Improvement Areas, municipalities, community groups, condominiums, and any other organization looking to provide impactful landscaping and florals to an area. 
Manufactured by EarthPlanter and purchased by Classic Displays in 2018, planters have been in use for less than two years. They are in great condition and have garnered compliments from the Junction community (business owners and residents) since their installation. The decision to sell is not based on the performance of the planters.
Sale Price: $500.00 each (1-yr old growing medium included)
Original Purchase Price: $1,045 each + $120 worth of growing medium per planter.
Amount Available: 30. Available by the lot, though individual purchases will be considered.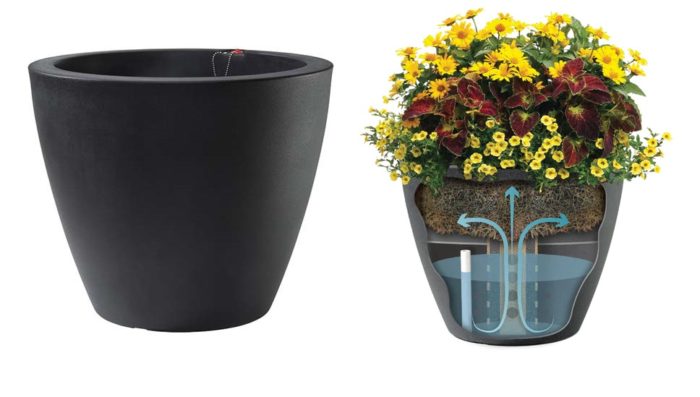 Model: EPMV-41, Urban Vase
This model is nearly a foot taller and wider than the complimentary Urban-Vase 31. It's absolutely beautiful and perfect for any application where a larger, more impactful container is needed. 
EarthPlanter is the North American leader in self-watering planters with over $20,000 installations. As with all EarthPlanters, you can expect to save 50-80% in labour and other costs connected to traditional container maintenance. It's the fastest return on investment in the industry, guaranteed. 
Specifications: 
Dimensions: 41" diameter x 36" height

Planting Tray Depth: 19"

Water Capacity: 40 gallons 

Watering Cycle: one every 3 weeks (average)

Product Weight: 

45 lbs. (shipping weight)

550+ lbs with water and wet soil

Soil Capacity: 5.7 cubic feet

Colour: Black 

Material: LLDPE, linear low-density polyethylene. Embedded with UV inhibitors to protect against fading from the sun. 

Winterized: Yes. Draining is recommended at the end of the season.

Stackable: Yes
Planting Instructions: Detailed instructions to be provided with sale.
Delivery: The purchaser is responsible for organizing delivery. The purchaser is responsible for emptying and bagging the soil.
Interested? Contact Matthew Mohan, Operations Coordinator, operations@torontojunction.ca for more information. Serious inquiries only.