3040 Dundas St W | (416) 760-9995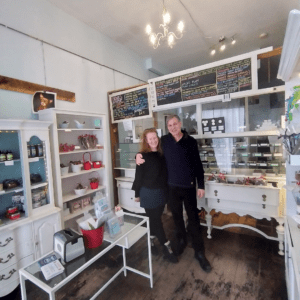 Delight Chocolate & Ice Cream is the culmination of the husband and wife team Jennifer Rashleigh & Jeff Brown's two passions. In the early 2000s, Jennifer took a chocolate-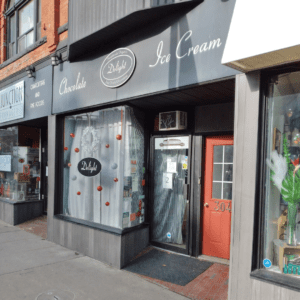 making course and was instantly hooked. Jeff had always dreamed of running an Ice Cream Parlour, and the two together are a natural fit.
In 2003, Delight Chocolate & Ice Cream started as a wholesale business out of their kitchen, selling their signature Filled Chocolates and Chocolate Bark. They came up with the name Delight to encompass the feeling you get when you try any of their products. After taking off in popularity, they looked for production space and opened their storefront during the 2007 Junction Arts Festival.
"The Junction was fairly sleepy back then, so finding a storefront that we could convert into a kitchen was easy. With two young kids in tow, we took the plunge. Since we had a retail storefront, we decided we would simultaneously open our doors to the public." They're no strangers to running a business, as prior to Delight, Jennifer ran a small restaurant and Jeff a newspaper. They've even paired up with Junction Fromagerie to open Allons Y Delivery during the pandemic, a curated service that offers tailored gift baskets stocked with goodies from local businesses.
Delight has become the go-to spot for both a summer treat and a perfect holiday gift specializing in handmade organic, fair-trade chocolate and ice cream. "More and more, we find ourselves drawn to the dairy-free and vegan options for both chocolates and ice cream." Delight has also become a true family business that has permeated the Junction. "Both of our children have worked with us, as well as several teenagers from the local community whose siblings have ended up working with us as well!"
When not at work, Jennifer can usually be found researching recipes and cooking at home from magazines like Fine Cooking, while Jeff is an avid outdoors enthusiast for activities like snowshoeing and camping. They both love to frequent local shops such as When the Pig Came Home, ARTiculations Art Supply and Curry Twist.
Whether you're looking for a decadent gift this Valentine's Day or looking to treat yourself to something delightful, visit Delight Chocolate & Ice Cream at 3040 Dundas St W — just a few doors down from Noctua Bakery. If you want to know more about Delight, you can visit their website or check them out on Facebook, Instagram or Twitter.
Member of the Month
Our Member of the Month features will shine a light on the businesses within the Junction and allow customers to get to know their neighbours who run the shops in our community. If you are a Junction BIA business interested in sharing your story with us and being featured by The Junction BIA, contact Carol Jolly, Executive Director.