Small Business: The Case for Basic Income
By Basic Income Hamilton
Date And Time
Thu, February 11, 2021
12:00 PM – 1:00 PM EST
About this Event
Explore the case for small business and basic income in this free one-hour online panel discussion.
Join Basic Income Hamilton for our second webinar in a series of panel discussions about basic income. This webinar will feature prominent Canadian business leaders and will focus on the many benefits of basic income for small businesses.
Learn more about "The Case for Basic Income for Small Business" and the Ontario Basic Income Network's (OBIN) "The Case for Basic Income" series by clicking here.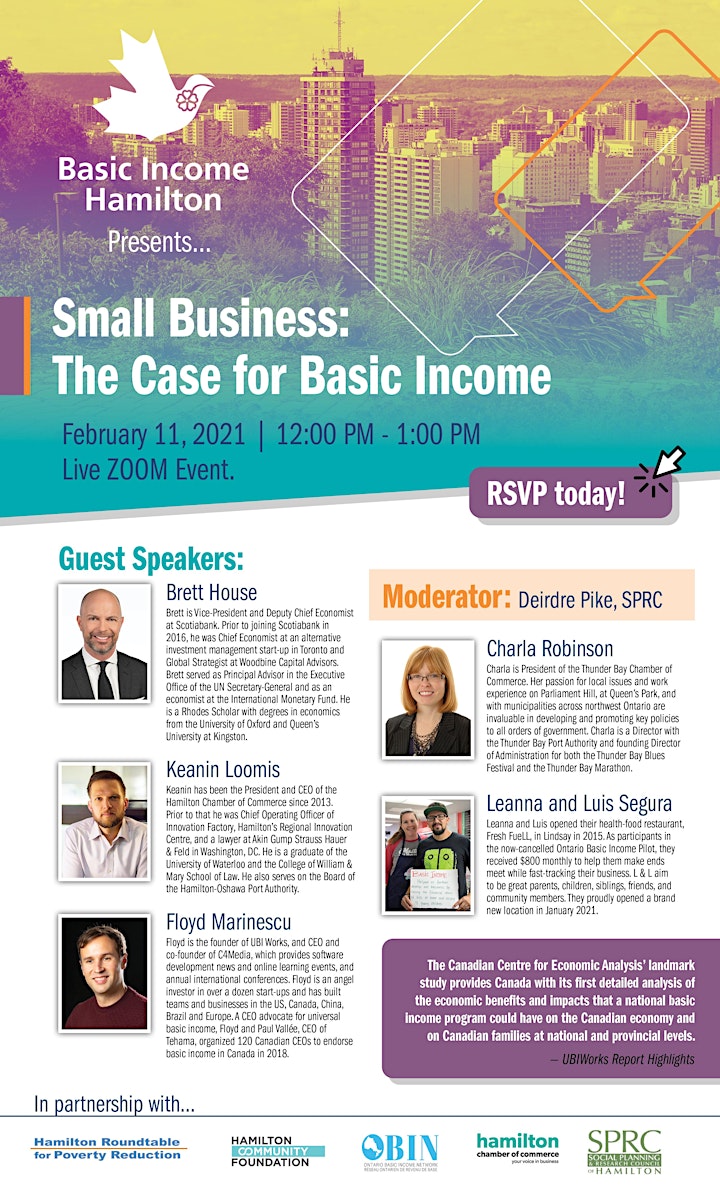 About our speakers:
BRETT HOUSE ~ Brett is Vice-President and Deputy Chief Economist at Scotiabank. Prior to joining Scotiabank in 2016, he was Chief Economist at an alternative investment management start-up in Toronto and Global Strategist at Woodbine Capital Advisors. Brett served as Principal Advisor in the Executive Office of the UN Secretary-General and as an economist at the International Monetary Fund. He is a Rhodes Scholar with degrees in economics from the University of Oxford and Queen's University at Kingston.
KEANIN LOOMIS ~ Keanin has been the President and CEO of the Hamilton Chamber of Commerce since 2013. Prior to that he was Chief Operating Officer of Innovation Factory, Hamilton's Regional Innovation Centre, and a lawyer at Akin Gump Strauss Hauer & Feld in Washington, DC. He is a graduate of the University of Waterloo and the College of William & Mary School of Law. He also serves on the Board of the Hamilton-Oshawa Port Authority.
FLOYD MARINESCU ~ Floyd is the founder of UBI Works, and CEO and co-founder of C4Media, which provides software development news and online learning events, and annual international conferences. Floyd is an angel investor in over a dozen start-ups and has built teams and businesses in the US, Canada, China, Brazil and Europe. A CEO advocate for universal basic income, Floyd and Paul Vallée, CEO of Tehama, organized 120 Canadian CEOs to endorse basic income in Canada in 2018.
CHARLA ROBINSON ~ Charla is President of the Thunder Bay Chamber of Commerce. Her passion for local issues and work experience on Parliament Hill, at Queen's Park, and with municipalities across northwest Ontario are invaluable in developing and promoting key policies to all orders of government. Charla is a Director with the Thunder Bay Port Authority and founding Director of Administration for both the Thunder Bay Blues Festival and the Thunder Bay Marathon.
LEANNA & LUIS SEGURA ~ Leanna and Luis opened their health-food restaurant, Fresh FueLL, in Lindsay in 2015. As participants in the now-cancelled Ontario Basic Income Pilot, they received $800 monthly to help them make ends meet while fast-tracking their business. L & L aim to be great parents, children, siblings, friends, and community members. They proudly opened a brand new location in January 2021.
DEIRDRE PIKE ~ Moderator, Hamilton Social Planning and Research Council
In partnership with Hamilton Roundtable for Poverty Reduction, Hamilton Community Foundation, Ontario Basic Income Network, Hamilton Social Planning and Research Council