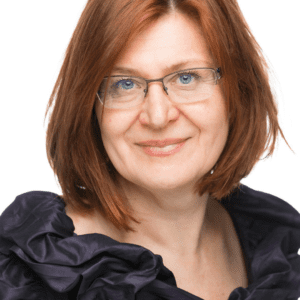 Olga Nabatova
Olga Nabatova was born in Lithuania and currently lives in Toronto's west-end Junction neighbourhood. For the last twenty years, she has been instrumental in helping create a thriving community children's theatre in Streetsville. She wears many hats, including set design, props creation, installations, costume design, photos, and videos.
Olga is an accomplished painter, sculptor, and illustrator. Her passion for sculpture and an uncanny ability to capture likenesses and character has resulted in many commissions here and in Europe. In addition, her three-dimensional skills have led her into the virtual reality (VR) world, where she is also one of the leading artists in cutting-edge augmented reality tools and design.
Under contract with Google, Olga was hired as a consultant to help develop artistic techniques for VR tools which eventually led her to present Tiltbrush to the YouTube Pulse conference in Toronto in 2016. She is also an award-winning virtual reality artist and, in 2018, was listed as one of the Top 50 Augmented and Virtual Reality Influencers by BrivoVR.com. Her ventures into VR and AR art involve working directly with VR and AR art apps like Tilt Brush, Blocks, Gravity sketch, Tvori, ARTivive, ARize using HTCvive and Oculus. In addition, Olga has been consistently advocating for VR and AR art at conferences and forums and being featured on CBC, Space Channel, and Vestink TV.
LEARN MORE