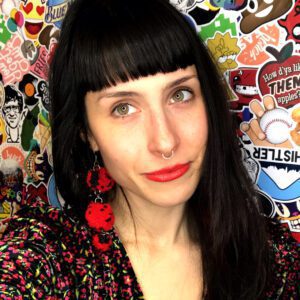 Natalie Very B
Natalie Very B. is a Polish-Canadian illustrator, muralist, and educator. She is passionate about facilitating art workshops with a strong focus on the therapeutic aspect of creative expression. Her large scale murals depict modern female empowerment and can be found all across Toronto. She makes art to change preconceived notions of feminism and promote self-love and body positivity in the world.
Artist Inspiration
"My design was inspired by the magical story of the Night Circus. The whimsical artwork in black, red, and white creates a bold statement for the Window Wonderland as it intertwines with the theme of the pet store."
Learn More
Bo Lin
My animation work explores motion and influences from traditional 2D animation and the work of Yuasa Masaaki. I like to experiment with different techniques and formats to see what works best for me. My works' ideas stem from what I see around me- whether on a large-scale social issue or just exploring colour.