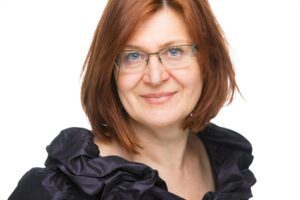 Olga Nabatova
Olga Nabatova is an award-winning virtual reality artist. In 2018 she was listed as one of the Top 50 Augmented and Virtual Reality Influencers by BrivoVR.com. In 2016, Olga was hired by Google to present Tiltbrush to the Youtube Pulse conference in Toronto. From this, she discovered her latest canvas: VR and AR art. Olga works directly with VR and AR art apps like Tilt Brush, Blocks, Gravity sketch, Tvori, Artivive, ARize using HTCvive, and Oculus. She has been consistently advocating for VR and AR art at different conferences and forums. She's been featured on national TV channels like the CBC, Space Channel, and Vestnik TV.
For the last twenty years, she has been instrumental in creating a thriving community children's theatre, Stage in Streetsville. She wears many hats, including set design, prop creation, installations, costume design, photos, and videos. Currently, Olga's focus is to incorporate AR Art into children's theatre.
Olga's passion for sculpture and uncanny ability to capture likenesses and character have resulted in many commissions here and in Europe. All these two and three-dimensional skills, plus a wild imagination, inform her work in VR.
Artist Inspiration
"Latitude 44 has beautiful oak windows, which are decorated with Christmas garlands year after year. For this Window Wonderland exhibition, I wanted to show the happy magical world of winter outside the window. In my drawing, children catch snowflakes with their mouths, tobogganing and skating. And the surprised dog is trying to eat a snowflake, and the cat is indifferent to everything! Wrapped in scarves and mittens, the townspeople rush about their business – life goes on in city windows. And in one window on the top floor, children pour all this snow onto the winter city. Magic!"
Learn More