2995 Dundas St W.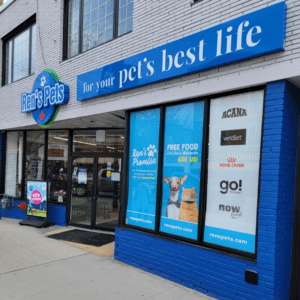 Ren's Pets started as a simple farm feed store in Oakville in 1975. The mission back then was simple: to provide high-quality agricultural food to the area's local farms. By the 80s, as the farms started moving North and West, Ren's Pets adapted by selling high-quality pet food, accessories, and grooming products. In 2008, Ren's Pets opened its first retail store at the original Oakville location. The same year, they opened a 25,000-square-foot distribution centre, headquarters in Guelph, and a second location. Today, Ren's Pets has stores throughout the 905 regions and the Maritimes. Throughout the decades and across multiple expansions, Ren's Pets remained true to its core values: excellent products, a high standard of customer service, and a commitment to giving your pet its best life!
With a winning formula for suburban locations, in 2021, Ren's Pets expanded into Toronto by opening new urban concept stores. The second opened in the Junction in early 2023, and Ren's Pets is looking to add another ten stores in the city. Researching an area is critical for such a significant change. Ren's Pets was attracted to the Junction's strong local business community, dedicated pet owners, and the high foot traffic in the area – both human and animal! The challenges facing these urban locations will sound familiar to any small business owner in the neighbourhood: a tiny store footprint (4,000 square feet compared with double the area at their older stores), high costs, traffic, limited parking, and logistical difficulties.
Ren's Pets focused on adapting to the new location, identifying recent trends, and using innovative strategies to meet the challenges of operating in a new environment. Observing the rapid rise of raw pet food, nearly 50% of total food sales at Toronto locations, Ren's Pets recently installed walk-in freezers at most locations to serve its customer base better. Despite the design challenges, the Junction location includes several large walk-in freezers to stock the yummy raw food your pet loves. To combat food waste, they recently partnered with Toronto-based charity FlashFood to reduce the amount of their products going to landfills. Seeing the demand for great local products, Ren's Pets launched Vetdiet, a proprietary, made-in-Canada pet food and treats brand. Seeing the pets and owners who rely on them makes all the effort worth it for Ren's Pets and their dedicated team to improve the lives of all pets, their humans, and communities.
Ren's Pets' welcoming blue logo can now be seen near the corner of Dundas and High Park. Inside, the design is fresh and modern, while barn boards and brick accents harken back to Ren's Pets' agricultural roots. Since Ren's Pets only stocks animal products, the interior is clean and scent-free. Wide aisles and tiered shelving offer high visibility, making finding what you want easier. And there are many things to look at, from toys and grooming products to treats and accessories. The focus, however, remains on food, and thanks to innovative design and layout, the new Junction location has one of the biggest selections of pet food, both traditional and raw, in the city. In addition, everyone at Ren's Pets receives the necessary training to get the expert advice you need when choosing a new type of food for your furry friend, guaranteeing that you will find the best food for your pet when shopping at Ren's Pets.
We (and our pets) are delighted to have Ren's Pets in the Junction. In an era of online shopping, Ren's Pets is committed to bricks and mortar retail, understanding that the two complement each other rather than compete. And with their proven track record, we can be sure they are here to stay!
You can find all the info about new product arrivals, events, and adoption drives on Ren's Pets' website or Instagram page.
Written By: James Watson
Member of the Month
Our Member of the Month features will shine a light on the businesses within the Junction and allow customers to get to know their neighbours who run the shops in our community. If you are a Junction BIA business interested in sharing your story with us and being featured by The Junction BIA, contact Carol Jolly, Executive Director.