2953 Dundas Street West | 647-250-7721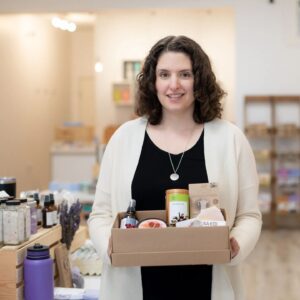 Aviva Allen has brought Healthy Moms Market into the Junction family but has been in the business of curating healthy and eco-friendly brands for almost ten years now. As a nutritionist and a mother of two, Aviva has a unique insight into the right products for all stages of life. She's focused on the curation of her local products, often made by moms, for moms.
From a very young age, Aviva dreamed of opening her own store. A child of the '80s, Aviva would set up her Fisher Price cash register in the doorway of her room and sold items to her family members. While opening a store during a global pandemic was certainly not ideal, Aviva watched as many stores catered to moms and kids were shutting their doors. She wanted to help bring some joy back into the neighbourhood with a store that the many young families of the Junction could benefit from. 
Healthy Moms began as a Facebook group nine years ago, created to give mothers a platform to connect and share tips and tricks. Then, five years ago, Aviva launched the Healthy Moms discount card. The discount card offers members discounts at tons of brands endorsed by Healthy Moms such as Mama Earth Organics, Knix and Fresh Restaurants. Aviva has dedicated many years of her life to being in tune with the community, constantly reviewing products and connecting with other moms to bring the best options into the community's hands.
Don't let the name fool you, though. Healthy Moms Market is a bright, open space carefully curated to fill many people's needs. Transitioning to greener living but not ready to fully commit? That's okay! Try wool dryer balls or sustainably packaged natural makeup. A mom looking for a greener option for her baby? There's a wide range of diapers – cloth doesn't have to be the only green option. 
Healthy Moms Market carries essential goods for everyday living; therefore, they're open for indoor shopping. Aviva is patient, well-informed, and ready to talk you through the process of finding the items that are just right for you or anyone in your life who is looking to switch over to locally made, sustainable brands.
-Riley Wiley, Journalism Intern, The Junction BIA