2808 Dundas St W.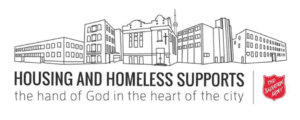 The Salvation Army's Evangeline Residence has operated for almost 150 years. Having opened in 1886, the shelter has existed in five different locations before moving to its current Dundas St. West location in 1975. In 2013, the six Toronto shelters operated by the Salvation Army were integrated into Toronto Housing and Homeless Supports (THHS). The Evangeline Residence takes its name from Evangeline Booth, an organizer and charity worker who was the 4th General of the Salvation Army from 1934 to 1939. Evangeline Residence was started to carry out the Salvation Army's core mission of meeting human needs and welcoming all, whoever and wherever they are. Evangeline Residence carries out this duty by operating a 90-bed shelter -the 2nd largest women's shelter in Toronto – providing assistance, shelter, and hope to Toronto women experiencing homelessness.

In running a facility of this size, The Evangeline Residence provides vital care for those among the thousands of women experiencing homelessness every night in our city. Evangeline's workers, volunteers and residents know that contrary to stereotypes, 30% of people accessing shelters in Canada are women. Women experiencing homelessness are at a higher risk of physical, emotional and psychological harm, making it all the more critical that they receive care.

Evangeline Residence recognizes and nurtures the emotional, physical, social and spiritual needs of all women staying with them. Inside the shelter, residents have access to nutritious meals, laundry facilities, room and board, transportation aid, and clothing, plus a supportive environment where residents can focus on meeting the challenges they face from a position of strength. At the shelter, women are given physical support and mental and spiritual help through counselling and classes to teach practical life skills and pastoral care. Advocacy is another crucial mission for Evangeline Residence. Through outreach, education and organizing, they and other THHS locations seek to challenge outdated narratives around homelessness, fight negative stigma, and strive for lasting social policy changes to a broken system for many.

As their mandate includes developing new partnerships and networks within the community, Evangeline Residence is happy to be part of the supportive and collaborative environment of the Junction. A recent collaboration with a local community health clinic aims to help keep residents healthy, not just with reactive treatment, but by proactively building healthy lifestyles through yoga classes and cooking workshops. Evangeline Residence knows that businesses, neighbourhood associations, and community groups are essential in creating solutions for ending homelessness, and we couldn't agree more.

You can find more information about the Evangeline Residence, including how to donate, here and other information about Salvation Army programs in Toronto here. 
Written By: James Watson
Member of the Month
Our Member of the Month features will shine a light on the businesses within the Junction and allow customers to get to know their neighbours who run the shops in our community. If you are a Junction BIA business interested in sharing your story with us and being featured by The Junction BIA, contact Carol Jolly, Executive Director.