3077 Dundas St W.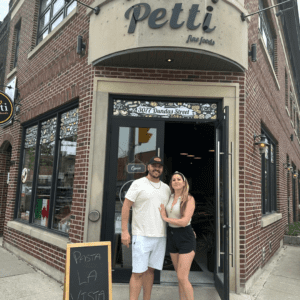 Hailing from a family with deep ties to the food industry, Stefano Petti discovered that no matter what path he chose in his career, everything led back to food. So when Stefano decided that becoming his own boss was the key to a fulfilling future, starting a business in the food industry was a no-brainer. He could leverage his family's experience, connections, and wisdom in the industry, but most importantly, do something he's passionate about. Getting the business off the ground was easy for Stefano, thanks to the support he received from his parents and girlfriend, Karla. The only tricky part was coming up with a name. During the following brainstorming process, Stefano found that names he was interested in were already taken. Eventually, Stefano decided to use his last name, Petti, as it's short and straightforward. Plus, since it's connected with his family, it had to be the right choice! Thus in 2022, Petti Fine Foods – the Junction's newest fresh pasta shop and fine foods store, was born.
Inside Petti's location at the corner of Dundas St. W. and Quebec St., you'll find tons of authentic Italian pasta made daily by Stefano himself. Popular options at the store include agnolotti, ravioli and JUMBO tortellini with cheese. You can use their products to make delicious dishes like lasagna at home. Or, if you're too hungry, you can buy prepared versions of Italian classics at the counter. Petti's also sells other Italian treats such as arancini rice balls, Italian amaretti cookies and tiramisu . Unsurprisingly desserts are popular at Petti's, and most of the neighbourhood is already addicted to Aragostine or 'lobster tails.' Despite the name, this pastry has no seafood; Aragostine is a hybrid between a croissant and a cannoli filled with pistachio or Italian Nutella, imported straight from the source. Petti's also does catering, and by ordering their party-size menu, you can serve their delicious plates of pasta and other treats at your next big event.
Like many Canadians, Stefano played many different sports growing up and still makes time to play hockey with friends several times a week. However, thanks to his Peruvian girlfriend, Karla, he has broadened his skill set and has become a great Spanish Dancer. If you see Stefano at the store, ask him to show off his moves!
Since starting his new career, Stefano has been inspired by the Junction business community's cooperative and welcoming nature. He is incredibly grateful to a few members for their role in Petti's success. Aviva from Healthy Moms not only comes by regularly for the Nicoise salad, but Healthy Moms was also the first business that used Petti to cater an event. Megan Munro, the owner of Caribou Gifts, is not only a client but has also helped Petti's when it ran out of some gift basket-making essentials. Stefano told us, "All in all, the Junction and the businesses in this area are very community-oriented, and we have appreciated everyone's support."
You can find more info about the store on Petti Find Food's website here, such as new tasty arrivals and catering events. 
Written By: James Watson
Member of the Month
Our Member of the Month features will shine a light on the businesses within the Junction and allow customers to get to know their neighbours who run the shops in our community. If you are a Junction BIA business interested in sharing your story with us and being featured by The Junction BIA, contact Carol Jolly, Executive Director.