2821 Dundas St W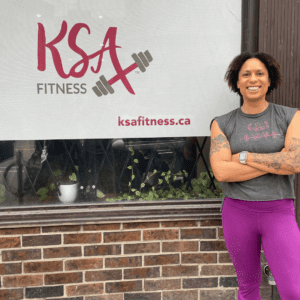 Kara Stewart-Agostino's journey as a business owner began in 2015 when she started KSA Personal Training. At this point, Kara didn't have an actual studio; she drove to training sessions at clients' homes, dumbbells and heavy weights in tow. So naturally, city driving with heavy equipment did a number on her car, earning the ire of her mechanic! Nevertheless, Kara was inspired to become a personal trainer because she wanted to make a positive difference in people's lives. For Kara, the most important thing as a fitness instructor is to give her clients an appreciation for doing fitness for themselves. Not because of what anyone else wants you to do or because society tells you to look a certain way, but for the joy of celebrating what our bodies can do, being committed to something, and feeling powerful.
Kara rebranded the business to KSA Fitness in 2019 because the scope of her offerings had extended beyond personal training. By this point, Kara had converted a room at her house into a home fitness studio. Then, during the pandemic, Kara kept KSA running by moving classes into the garage. KSA offers a wide range of fitness products and classes, from youth fitness classes for teens and tweens to strength and conditioning courses for adults. There's even a weekly 30-minute mobility class that is free and open to anyone! Whatever the class, Kara's goal is always to make things challenging but fun. Of course, there will be days where the workouts will feel more difficult than others, but as long as the intensity is at the right level for that person's body, it's easy for exercise to be enjoyable.
Finally, Kara opened a Junction storefront studio on Dundas West in December 2021. Why take this exciting yet challenging step to establish a physical studio? A commitment to growth, strength, and action; values that have defined KSA since the start. After all the previous improvements, opening a studio felt like the right step. Another source of motivation for Kara was that there aren't many Black, female fitness industry leaders. Opening a studio would help change that. Kara hopes to inspire a new, diverse generation by becoming a fitness industry leader.
KSA's studio is a positive space that welcomes all body types and fitness levels. The library is an unexpected feature of Kara's passion for reading. The combination of running a business and having two children with busy schedules of their own doesn't give one a lot of free time. But Kara has always loved reading and always makes time in her busy schedule.
With healthy, active lifestyles, it's no surprise that the Stewart-Agostino family loves to eat. One of their favourite places is Pizzeria Libretto – not surprising since Kara's husband is Pizzeria Libretto's co-owner, Rocco Agostino. In addition, they enjoy going to When the Pig Came Home and Tumi Dumpling House.
So come by KSA's studio or check them out online to have all your fitness needs met. You can find more info on their Website or their Instagram page.
Written by: James Watson
Member of the Month
Our Member of the Month features will shine a light on the businesses within the Junction and allow customers to get to know their neighbours who run the shops in our community. If you are a Junction BIA business interested in sharing your story with us and being featured by The Junction BIA, contact Carol Jolly, Executive Director.