CaféTO
As you may know, the City of Toronto has begun implementing its plan to close portions of the curb (outer) lane along Dundas St W for its CafeTO Program. This program will allow for restaurant and bars in the Junction to create a patio space for patrons, while drawing an increase in foot traffic to support the entire business community. This program is set to be in place until November 15, 2020. 
Please read below for important details and an FAQ. 
On This Page: 
What is a Curb Lane Closure?
How to Register
Working with Your Neighbours
Information of Planter Box Delineators 
Garbage Collection in a Closure 
Amplified Sound 
Built Structures, inc. Visual Screens 
Opening and Closing Times
Patio Furniture Suppliers
What is a "Public Parklet?"
Patios on Private Property
Other FAQ
What is a "Curb Lane Closure"
The City has closed portions of the outer lane of Dundas St W to traffic. Restaurants and bars may use this space on the street to set up a patio, with the sidewalks open to pedestrians. Pedestrians must still have 2.1m of sidewalk space to walk. See diagram below.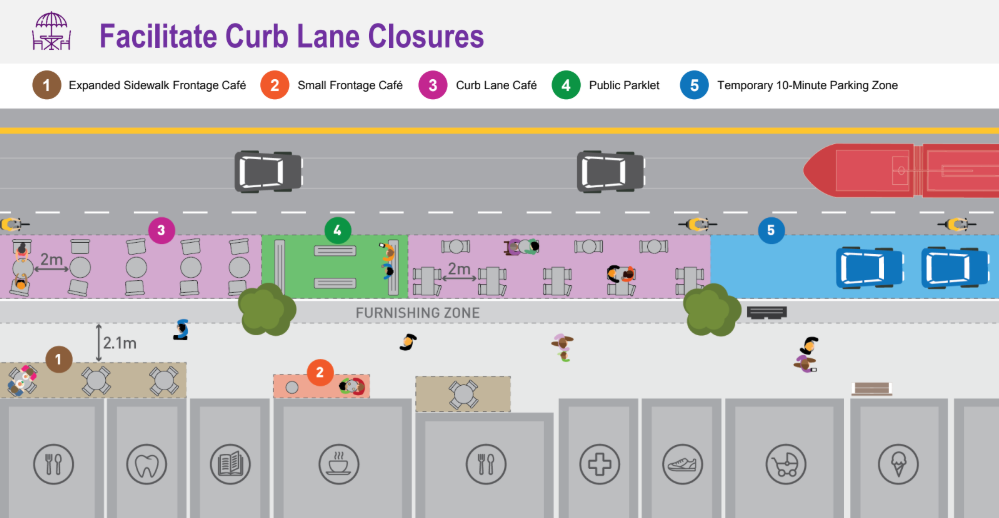 How to Register
If the City has set up a curb lane closure in front of your restaurant, you must take the following steps in order to use it:
Carefully read the CafeTO Placement Guidebook.
Collect all required forms (below).
Complete the CafeTO Registration Form. The City recommends that you do this as soon as possible. 
Wait for confirmation from the MLS. If there are other restaurants who may want to use (or are already using) the the curb lane closure, you must work with them to equitably share the space. See below for more information. 
You should also have the following documents ready before launching the form: 
A City of Toronto Eating Establishment Licence Number (starts with B71).
A Completed Certificate of Insurance * Download and complete this form, not your own insurance documents.
A City of Toronto Café Permit Number (for existing cafés – starts with R57).
A Letter of Permission from the adjacent business and/or property owner. This is only required if you are looking to extend a patio ON THE SIDEWALK in front of an adjacent business. 
Fees: Fees for new and existing patio permits will be waived.
Working with Your Neighbours
A curb lane closure may be available to multiple restaurants and bars. It is important that businesses work together to equitably and fairly divide the use of the space. You may also discuss different hours of use or the sharing of furniture. It's now in your hands, and as soon as you receive confirmation from MLS on your CafeTO Registrations, you are good to go! 
Deliveries: Restaurants should work with their neighbours, inc retail and service, to organize a specific day(s) for deliveries, if they require it. 
Planter Boxes
The construction barrels have now been replaced by construction "candlesticks" to separate patios from traffic, but soon they will be interspersed with self-watering planter boxes. We ask that participating businesses please landscape (add soil/plants/grass) and maintain the planters in the area that you are using for your patios, as it is an extension of your restaurant. We know you won't want them filling with garbage!
Planter Specs:
Vista 48 Self-Watering Planters
are 48″ L x 26″ W x 21″ H with a soil capacity of 0.32 cubic yards.
They are self-watering with a 181.7 litre water reservoir.   
From the City: "Standard potting soil comprised of a combo of peat moss, perlite and vermiculite  – peat moss being the important factor. They could also mix standard topsoil with 2 parts peat moss, depending on what they have on hand and resources. In summary – potting soil (best), or raised bed soil, should be OK. Topsoil is too heavy and doesn't allow enough drainage or aeration and will cause the boxes to rot/grow mould/kill the beautiful plants!"
Landscapers: Businesses may want to fill the planters themselves, or reach out to an external company landscaper. You can contact the landscaper used by The Junction BIA, Makslea Landscaping (makslea@yahoo.ca), or see this List of Landscapers. 
Moving Planters: The planters can be moved when they are empty should their placement not be ideal, but you must keep them within the 1.2 m offset from the lane line with the rest of the closure. This 1.2 m offset from the curb lane is mandatory to ensure that bicyclists can ride safely. 
Garbage Collection
Unfortunately, weekly garbage collection cannot happen within a closure. Any businesses/resident that normally use garbage collection from the front will need to begin putting their garbage in a spot where there is no closure, such as to the east or west of the closure.  If garbage is left anywhere in a closure area, on the sidewalk or curb lane, it will not be collected. 
Amplified Sound 
According to the CafeTO Guidebook, "please ensure that noise arising from the service of food and alcohol on your outdoor café does not disturb local residents. Amplified sound is not permitted. Please be a responsible business operator
by ensuring that the conduct of your patrons does not adversely impact your neighbours."
Remember, amplified sound coming from outside or inside will encourage patrons to speak louder or yell, increasing the chance of COVID-19 transmission. Light background music, coming from indoors, is okay. 
Built Structures
According to the CafeTO Guidebook, "inspections for built structures are not possible in 2020. Café operators should not install:
• Any built structures, including decks
• Electrical installations
• Visual screens
• Any other fixtures in the public right-of-way"
Opening and Closing Times
Opening Time: Cafe operators should be able to set up you patio and begin serving alcohol as early as the stated permissible hours for the sale as service of alcohol by the AGCO: 9:00 AM
Closing Time: As stated in the Letter of Non-Objection that each cafe operator receive prior to beginning service, "Cafés in the curb lane and on the sidewalk frontage may serve alcohol until 2:00 a.m., and must be vacated by 2:45 a.m., unless the operator has a condition imposed on their establishment from Community Council or the AGCO that requires them to close earlier."
Patio Furniture Suppliers
We are aware that patio furniture is in short supply right now. We have compiled a list of patio furniture contacts that you may be interested in reaching out to. Don't forget to ask for a good deal!
CLICK HERE FOR OUR LIST OF FURNITURE SUPPLIERS. 
CafeTO Public Parklets
Within the curb lane closures, The Junction BIA has invested in 4 public parklet spaces across Dundas St W. These are spaces set with picnic tables and muskoka chairs designated for public use. Our takeout restaurants should encourage their customers to use these spaces!
Where are they located? At High Park Ave; McMurray Ave; in front of 2946 Dundas St W; and in front of 2837 Dundas St W. 
Patios on Private Property
Interested in setting up an outdoor patio on private property? This could include a patio on a private lot or a parking lot, for example. 
In order to do this, you do not need to register with the City or for the CafeTO Program. The Municipal Zoning Order 358/20 has expedited the process. In order to set up a patio on private property, complete the following steps: 
Go to the CafeTO page and read the Private Patios tab, including the Municipal Zoning Order. 
Ensure that the potential patio falls withing municipal restrictions, outlined below. If you're not 100% sure, contact MLS.
Obtain permission from the property owner. They may require that you obtain additional insurance. 
Set up your patio!*
*If you have an existing liquor license they do not need a letter of municipal non-objection. Council has been provided blanket approval.
A patio on private property must adhere to the following municipal zoning restrictions (as outlined in the Municipal Zoning Order):
The outdoor patio must be located on the same lot as the eating establishment with which it is associated.
No portion of the outdoor patio may be located,

in a residential zone, or
within 30 metres of a residential zone.

No portion of the outdoor patio may be located above the first storey of a building.
The permitted maximum area of an outdoor patio is the greater of,

50 square metres, or
50 percent of the interior floor area of the eating establishment with which the outdoor patio is combined.

The outdoor patio may occupy the area of one or more surface parking spaces unless the parking space is,

a required accessible parking space, or
a parking space required by the zoning by-law for a residential use.

The outdoor patio may occupy the area of a portion of the drive aisle that is adjacent to a parking space mentioned in paragraph 5 if the sole purpose of the drive aisle is to provide access to the parking space.
A parking space mentioned in paragraph 5 that is occupied by an outdoor patio shall continue to satisfy any requirement for parking spaces in the zoning by-law.
Other FAQ
Registration Questions
Q: Where do I register? 
A: Please register here: https://www.toronto.ca/home/covid-19/covid-19-protect-yourself-others/covid-19-reduce-virus-spread/covid-19-cafeto/
Q: When is the deadline to register? 
A: The sooner the better. While there is no official deadline, until you apply only your neighbours who have applied will be able to use the entire space. If no one registers to use a curb lane space, the City may remove the closure. 
Q: Where is the official guidebook for CafeTO?
A: Find it here: https://www.toronto.ca/wp-content/uploads/2020/06/87bd-TS_CafeTO-Guidelines.pdf
Curb Lane Cafe Set-Up Questions
Q: Where are the City of Toronto Restaurant Reopening Guidelines? 
A: Find it here: https://www.toronto.ca/wp-content/uploads/2020/06/8e95-COVID-19-Guidance-for-Reopening-your-Restaurant.pdf
You can also find a wealth of resources, guidelines, poster templates, checklists, and PPE suppliers on our Preparing to Reopen page. 
Q: What is the minimum amount of clearance or space on the sidewalk needed for AODA compliance? 
A: 2.1 Meters. This is non-negotiable. 
Q: Who is providing the barriers for curb-lane closures?
A: The City of Toronto will be providing minimum requirements for the barriers of the curb lane, which are "candlesticks". In the next few weeks, planters, will be added, loaned from the City. Participating CafeTO members will be required to provide soil and landscaping to these planters. 
Q: I am no longer interested in participating in the CafeTO program. Can I give the space in front of my business to my neighbour? 
A: The space on the street in front of your business is not yours to give away. If you are no longer interested in the space, please inform your neighbours and the BIA. This space is to be equitably divided between each of your CafeTO neighbours there, not just given to one.  
Q: Can I prepare food/drink outside in the curb-lane patio closures? 
A: No. This is not allowed. Any patios are for seated dining only. There is no use of propane, grills, etc. permissible in these spaces. 
Q: I am a property owner and am worried about the liability of having a patio on the street in front of my property. What if I don't give permission? 
A: The curb lane cafe space on the street is City property, not private property. It is designated for patio use by the City of Toronto and does not require property owner permission. The cafe operator holds insurance covering this space.  However, if a patio from an adjacent property extends on the sidewalk in front of your property, they will require your permission in writing. 
Q: My cafe is legally able to be set up until 2 AM in the curb-lane. Does this mean everything needs to be inside at that time, or no service after that time but patrons can linger a bit longer? 
A: You must stop serving alcohol at 2:00 AM, but your customers may linger. All signs of service must be removed by 2:45 AM. 
Q: Can we create our own delineators? Can we use other types of markers such as ropes and chains, modified skids, tire planters?
A: No, only planters and candles sticks are being considered at this time. Built structures such as visual screens are not permitted. 
We will be in touch if anything changes regarding these rules. Keep in mind that bars and patios are the Junction's best opportunity to bring people to the Junction – this will benefit everyone! 
Remember, this program is here to support all businesses recover from the COVID-19 pandemic and drive increased foot traffic to the Junction – it will only work if everyone works together.