The temporary CaféTO program has been governed through a combination of existing Chapter 742 regulations and temporary guidelines established in the CaféTO Guidebook. The transition of CaféTO from an emergency response initiative to a standard and consistent curb lane café program is contingent upon three key elements:
#1. Requiring all café operators to build a temporary accessible platform and fencing for their café area, along with other operational adjustments to address mobility and other ROW needs;
#2. Aligning café areas with the frontage of the establishment, with options for expansion (see CaféTO 2023 and Beyond Report Backgrounder); and
#3. A return to fees for the use of the Right Of Way. 
Last week, Toronto City Council approved CaféTO program changes to make this popular program permanent. The amendments transition CaféTO from a temporary emergency response initiative into a sustainable City of Toronto program that makes Toronto's streets more attractive, safe and accessible while supporting restaurants and bars operating with expanded outdoor dining spaces.
Along with several other BIAs, we advocated tirelessly to remove the proposed fee structure and successfully decreased the fees by 66% for 2023. Council voted in favour of several measures to support the transition to the permanent program, specifically: 
The City will reduce all permit and application fees by 66 percent this year. Fees will be phased over three years, with the full amount changed in 2025.
Temporary platforms in curb lane café permit areas will be required to ensure curb lane cafés are fully accessible. Restaurants and bars with a permit for a curb lane café will have a grace period until August 1st to install these accessible platforms. Operators will be allowed to use temporary ramps during the grace period. However, we encourage you to get your permanent platforms up as soon as possible to minimize disruptions in the summer!

Also, keep in mind while the install deadline is August 1, the deadline for submitting the platform design plans is July 1, 2023. 
For more details on the approved changes, you can read the News Release, the CaféTO staff report and the supplementary report on the City's website.
With the program now approved, applications are expected to open on Fri, February 17th.
Additionally, grant programs will be available to assist businesses and BIAs participating in the CaféTO program.
The CaféTO Property Improvement Program (PIP) grant will help cover the cost of these platforms. The PIP will match 50 percent of the cost of eligible patio space improvements, including costs associated with renting, leasing or purchasing accessible temporary platforms, up to a maximum of $7,500. The benefits are as follows:
The PIP grant is first-come, first-serve. Applications open March 1st.
Aesthetically more pleasing.
No disruption to the summer. You will need the platforms this season, so please be sure to get ahead of it and install yours at the beginning of the season.
If you have plans and a timeline to have a platform immediately before operating, no candlesticks will be deployed (this is our latest info, which may change if Transportation Services has reason to deploy candlesticks).
Ramps also carry a cost (financial and the space they occupy), and a potential infraction cost should you not have one.
CaféTO Property Improvement Program (PIP) – Rentals and Storage
After raising the issue with FedDev Ontario, the City can include platform rentals and storage as an eligible cost for the CaféTO Property Improvement Program. This means eligible restaurant operators can use up to $7,500 towards these items. As you know, this grant is a program funded through FedDev Ontario and is set to end on March 31, 2024.
Below is a sample breakdown of how the permit application costs occur.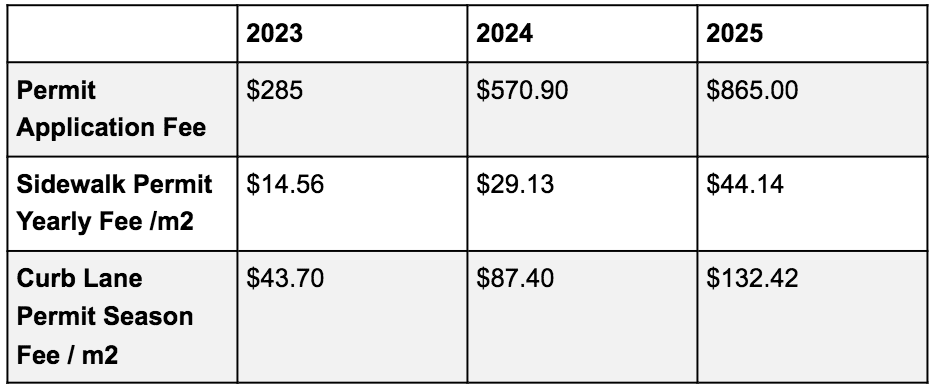 If you are applying for a curb lane permit for a patio that is ~ 40 feet, you will have to pay the following this year (this calculation does not factor in the PIP grant):
City of Toronto
Permit Application Fee $285 + $1,048.80 – note: if the average patio is 24 sq. metres (2 metres width x 12 linear metres). Total $1,333.80
This fee is for year one and will be automatically renewed. So the application fee will not be needed in year 2 or 3, just the permit fees.
Platforms
The average cost of a platform for a 12-metre patio is estimated to be ~$15,000.
TABIA (Toronto Association of BIAs) is currently working with platform producers to see if we can reduce this cost for you. TABIA has signalled that the prices for lumber and services surrounding platforms have greatly diminished. 
TOTAL = ~$16,333.80
Curb Lane Pilot Program
By taking part in the CaféTO Curb Lane Pilot Program, a BIA can customize their main street curb lanes to allow restaurants to operate café permit areas beyond the frontage of their establishment, install public parklets, temporary loading zones, waste collection areas or bicycle parking.  If you're interested in learning more about this pilot program, please reach out to 
Melanie Neves, our Operations Manager.
If you have general questions about the City's CafeTO program, don't hesitate to contact them directly at CafeTO@toronto.ca.
With regards,
Carol
Carol Jolly
Executive Director
The Junction BIA
416-561-3683 (mobile)