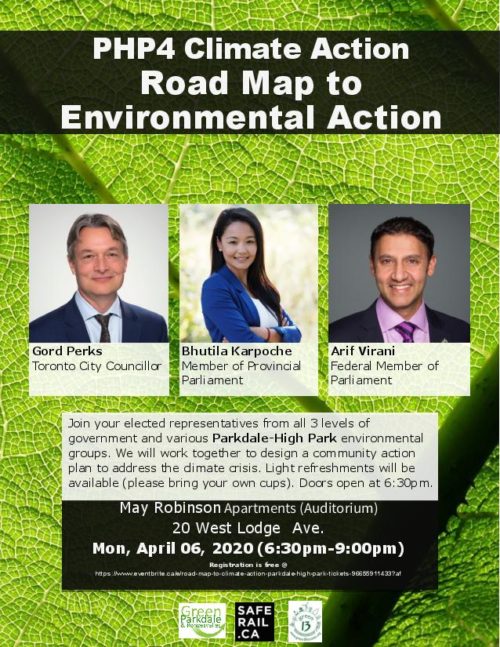 People in Parkdale High-Park want all levels of government to work together to address the climate emergency. Voices of community members are critical for building a roadmap for climate action. 
On Monday, April 6, please join Parkdale High Park 4 Climate Action, Green 13, Green Parkdale Roncy, Safe Rail Communities and our elected officials from all 3 levels of government; City Councillor Gord Perks, MPP Bhutila Karpoche, and MP Arif Virani  in developing a community action plan together to address our climate crisis. 
This is an opportunity for residents of Parkdale HighPark to pressure our elected officials to take bold steps towards real climate action. By attending this event we are showing all levels of government that addressing this existential threat is a priority for us all and that we need concrete actions from them in order for us to reduce our carbon emissions. 
Please note that this is a free event, however, given limited seating we require that attendees register through Eventbrite @ 
https://www.eventbrite.ca/e/road-map-to-climate-action-parkdale-high-park-tickets-96655911433