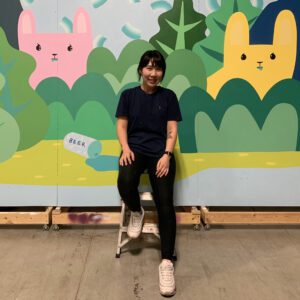 Jieun June Kim
Jieun June Kim is a Toronto based, Korean born painter, muralist, and art producer. She has exhibited her paintings around the world since 2010 at notable galleries and events, exploring the idea of "home" as an immigrant.
As an expansion of her studio work, Jieun is also interested in creating safe spaces through street art. She has created numerous murals with various arts organizations such as The STEPS Initiative, City of Toronto's StreetARToronto, and corporate partners such as Samsung, Up Canada, and Collective Arts Brewery.
She is a recipient of the Newcomer and Refugee Artist Mentorship grant from the Toronto Arts Council (2018) and was selected to be an artist-in-residence at the Museum of Contemporary Art Toronto (2019). She is co-founder of KJ Bit Collective, which produces murals and street art events and is a member of the Mural Routes program advisory committee team.
Artist Inspiration 
"I created a winter scene where two puppies are having fun. I hope this piece gives joy to people who walk by the Tailwaggers."
Learn More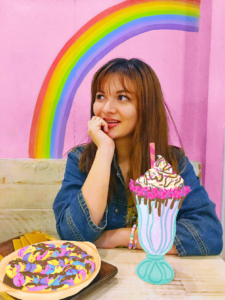 Jeca Martinez
Jeca Martinez is a Toronto-based animator and illustrator, providing custom creative content for social media.
She loves to spread colour and joy in everything she does—whether that's entertaining people with her animation and illustration, helping businesses add whimsy to their online presence, or sharing what she has learned on her creative freelance journey.
She has worked with brands and clients such as Facebook, Hallmark, Google, GIPHY, Vibal Publishing, and Adarna House, on creative projects ranging from animated greeting cards, sticker packs for messaging apps, children's books, and more. Currently, she is a graphic designer and illustrator at Fluency Digital Agency.
When she's not working, she's….still working. You'll find her sharing a behind the scenes look at her creative process on her Youtube channel, making bite-sized content for her Instagram @JecaMartinezArt, and learning all she can about creative entrepreneurship and freelancing (all with an iced coffee in hand!)
Artist Inspiration
"What happens when two adorable puppers encounter a magical snowflake? For my animation, I was mainly inspired by June Kim's amazing mural illustration of two puppies frolicking outside on a snowy day, and the happiness that Tailwaggers brings to their fluffy clientele—but with an added touch of whimsy and imaginative storytelling through motion."
Learn More