2832 Dundas St W.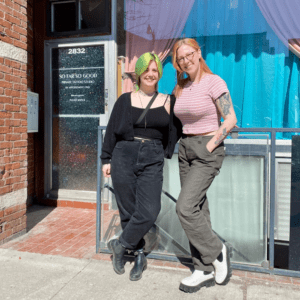 So Far So Good Tattoo Studio owners Amanda and Nic met in the animation industry before beginning their journey as tattoo artists. The pair first came to the Junction to work at The Rabbit & The Thorn. When its owners chose to move out East for a change of pace, Amanda and Nic took over the space. They hadn't planned on starting a studio early in their careers but decided they couldn't pass up such a great opportunity. 'So Far, So Good' became their motto as they rolled with the punches of starting a business. Ultimately, both decided it would work well as a name. Opening in March 2022, So Far So Good has been going strong ever since and just celebrated its first anniversary. So clearly, the name was a good choice!
As a women and queer-owned, disability-friendly space, the folks at So Far So Good believe that tattoo work should be accessible to everyone, whether experienced or new. In keeping with this philosophy, Nic and Amanda wanted to make sure that the interior of So Far So Good felt warm, welcoming, and a little kitschy. To match the neighbourhood's aesthetic they had come to love, many of the items you'll see inside come from local businesses, especially The Junction Art Market. To ensure the tattoo process is comfortable and safe for everyone, So Far So Good has helpful tips about aftercare on their website, ensuring a comfortable and safe process resulting in a tattoo that looks and feels great!
Over the last year, So Far So Good has formed a like-minded team of tattoo artists who support and inspire each other. While every artist has their specialty, they all include spooky and cute designs. For instance, Nic uses dynamic motion and bold expressions in their fantasy-inspired designs. Meanwhile, Amanda's work features limited colour pallets, a vintage aesthetic, and many mermaids! All the artists have awesome profiles on the website, where you can check out their work and links to their Instagram pages. As they are appointment-only, So Far So Good encourages people to look at the profiles and chat with their preferred artists before making an appointment. The plus side is that you can check out all the cool artwork online.
The team has been incredibly busy, so they haven't had the chance to do many activities together (other than dinner and karaoke), but they hope to do some drawing events soon. For lunch, Nic and Amanda enjoy grabbing a quick bite at Cool Hand of A Girl or Rois Cream and are always happy to connect with business owners in the neighbourhood.
They are thrilled to have a new tattoo studio in the Junction with a demonstrated commitment to diversity and accessibility. For the latest updates, check out So Far So Good's Instagram, where they highlight their best work and post information on when in-demand guest artists will be at the studio. 
Written by: James Watson
Member of the Month
Our Member of the Month features will shine a light on the businesses within the Junction and allow customers to get to know their neighbours who run the shops in our community. If you are a Junction BIA business interested in sharing your story with us and being featured by The Junction BIA, contact Carol Jolly, Executive Director.