228 Mavety St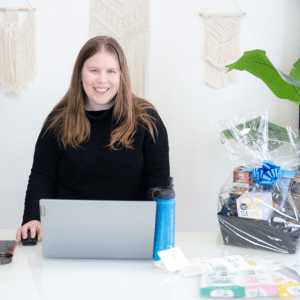 Megan Munro started her business, Caribou Gifts, in March 2020. From a young age, Megan was passionate about giving meaningful gifts, and she often created her own gift baskets for friends and family. However, she was often frustrated by the need for more stores selling high-quality, locally sourced gifts for the whole family. Having a family business was something that Megan had always wanted, so she left a ten-year corporate career and combined her two passions. The result is a gift store that does things differently. It stocks products from Canadian businesses, gives back to the community, and offers thoughtful gifts for all ages. Most importantly, it is a place where every gift purchased says, "I Caribou You!" 
Speaking of Caribou, the name and slogan come from the fact that Caribou Gifts has a lot of Canadian products at its store; in fact, 80% of its brands come from Canadian companies. So, looking for an appropriately Canada-themed name, Megan came across Caribou (or reindeer for our European friends!) and thought it was a good fit. The slogan "I Caribou You" flowed naturally from that and perfectly encapsulated the store's philosophy of ensuring every gift matters. 
You will find various gift baskets at Caribou Gifts for every age and occasion. Since they have so many, you'll find a pre-assembled basket that works for you. Among the many options is a day at the spa basket, a movie night basket, and a Canadian basket. And if you don't find one, Caribou offers a wide range of products for all ages, from candles and cheese boards to puzzles and board books. These items can be bought individually or combined into a thoughtful, personalized gift basket for someone important to you.
Another thing you will find at Caribou Gifts is a member of the Munro family. This almost always includes Megan, usually accompanied by her youngest daughter Maya. Meanwhile, Megan's husband Pawel serves as Caribou Gifts' chief taste tester, but he also has other responsibilities, such as IT support and managing shipping during the busy holiday season. The remaining members of the Munro family; Emilia and Zoe, are significant sources of motivation for Megan. She wants her daughters to grow up seeing their mother build something by working hard on it every day.
Megan enjoys making her own crafts to take a break from the many obligations of being both a mother and a small business owner. She particularly enjoys creating her greeting cards and hopes to sell them at Caribou Gifts in the future. But, for now, you'll have to make do with their splendid collection of other Canadian artists and designers. To keep herself and her young family happy and healthy, Megan goes to nearby Healthy Moms, and on a busy day, she might get a quick and healthy lunch at Freshii. You can learn more about Caribou Gifts wide range of gifts, new arrivals, sales and holiday promotions on their website or Instagram.
Written by: James Watson 
Member of the Month
Our Member of the Month features will shine a light on the businesses within the Junction and allow customers to get to know their neighbours who run the shops in our community. If you are a Junction BIA business interested in sharing your story with us and being featured by The Junction BIA, contact Carol Jolly, Executive Director.