393 Keele St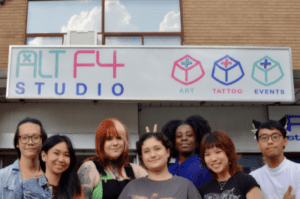 One of the Junction's newest businesses is tattoo and art studio Alt F4, which opened its doors earlier this year. As you can imagine, opening a business in the middle of a pandemic was certainly a challenge. So people often wondered why owner Tony (who you may know as Sedated Sloth on Instagram) opened a business during this challenging time. He responded, "If you do what you like, you'd never work a day in your life."
Because starting his own studio represented a long-term dream, it was worth persevering through some difficulties to accomplish his goal. Plus, it didn't hurt that pizza places were abundant nearby throughout the renovations; the local Pi Co Pizza Bar has immortalized his favourite custom pizza as 'Tony's Special!' In designing his space, Tony was inspired by the first shop he worked at, which allowed him to grow and improve as an artist. Therefore, he set out to create an inspiring space for himself and new artists that would enable them to improve creatively, experiment with different mediums, collaborates with others, and engage with the local community. A place that truly embodies the company motto of 'art above all.'
Inside Alt F4, you will find a retail space for local vendors, in-house artists making one of a kind pieces, and a team of dedicated tattoo artists – each of whom has their own specialties. Alt F4 is serious about showcasing its talented group of artists. The site includes profiles of each contributor, with links to their Instagram pages or personal sites. Tony also ensured to get the whole gang together when sending us pictures for this profile!
In addition to their artistic endeavours, Alt F4 hosts monthly events, bringing clients, friends, and locals together. Recent events have included a stop motion demonstration in collaboration with a local band and a Super Smash Brothers Tournament. This was certainly on brand, considering most of the Alt F4 crew are huge gamers. You can probably find them on Discord or at See-scape when they are not at the store. Gaming also inspired Alt F4's name: pressing ALT+F4 closes whatever window or program you have open on a computer. True story: in the early days of online gaming, more experienced players would tell newer ones to press ALT+F4 to receive "prizes" or "rewards" … how kind!
So head over to Alt F4 if you're interested in tattoos, art, gaming, or events. The team at Alt F4 has just gotten on their creative journey, so there is undoubtedly more to come! You can check for news on their website or Instagram page.
Written By: James Watson
Member of the Month
Our Member of the Month features will shine a light on the businesses within the Junction and allow customers to get to know their neighbours who run the shops in our community. If you are a Junction BIA business interested in sharing your story with us and being featured by The Junction BIA, contact Carol Jolly, Executive Director.