382 Keele St. | (416) 546-3679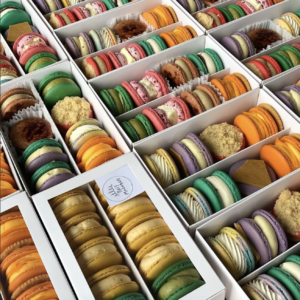 Business owner Soohyun Whang never imagined her passion for Korean desserts would turn into a full-time business. However, when she launched her Instagram account in March 2020, selling her tasty treats online, she received many messages from customers who wanted her to open a physical location.
That's when she launched Rois Cream, an authentic Korean dessert spot that uses traditional ingredients to create awe-inspiring treats. Based on her experiences working as a baker in the Republic of Korea, she wanted to introduce Toronto to Korean-style desserts. "When I opened this store, there were only a few people who even knew about Korean-style desserts. We still struggle with this problem, but we've put in so much effort so people can know the difference."
The store specializes in 'Fatcaron,' a Korean-style macaron with a thicker center than a traditional French macaron and less sweet. "Its distinctive feature is the thick layer of cream that's not excessive, but just rich enough to bring a nice satisfaction to every bite."
Soohyun came up with the name for her business because she wanted to play with the French word "Rois," which means "King" or "King's." "It's named out of our confidence … I wanted to specifically put the word 'Cream' to confidently mean that we are a bakeshop mainly specializing in cream-related desserts."
She pulls inspiration for her colourful designs and inspired flavours from the various cultures that make up Toronto. When asked, she told us her favourite creations are the Valentine's Day and Christmas specials. "I can't erase the looks on people's faces after receiving their macarons!"
Soohyun chose the Junction to open her store because of the atmosphere and her love of the community. "There are so many communities in GTA, but the Junction is different. I feel it is more active and friendlier than others. And there are so many younger people here, so they accept new cultures easily."
If you're in the mood to try any of these whimsical, authentic Korean desserts, visit the Rois Cream storefront on Keele, just north of Dundas. You can also follow the Rois Cream Instagram to see their seasonal menu and their custom designs.
– Chris Middleton, Journalism Intern, The Junction BIA
Member of the Month
Our Member of the Month features will shine a light on the businesses within the Junction and allow customers to get to know their neighbours who run the shops in our community. If you are a Junction BIA business interested in sharing your story with us and being featured by The Junction BIA, contact Carol Jolly, Executive Director.