With the holiday season upon us, Toronto's award-winning winter art exhibit, Window Wonderland, returns to the Junction for its fourth consecutive year. From November 24, 2023 to January 31, 2024, the magical urban art walk, presented by Isaan Der Thai Kitchen, will transform the Junction into a FREE outdoor art gallery featuring 20 spectacular augmented reality (AR) window installations and five murals, all designed by local and international artists.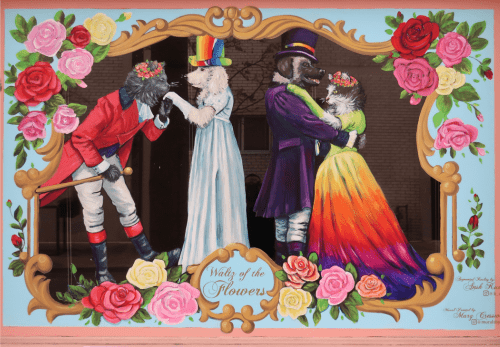 The first of its kind for the City of Toronto, Window Wonderland is presented in collaboration with the internationally renowned AR app Artivive. This revolutionary app adds a layer of augmented reality to traditional art, creating new experiences and leaving audiences in awe. Visitors at Window Wonderland can simply download the Artivive app, point their smartphones at the artwork on the windows and wall murals, and voila –  watch the artist's creation come to life!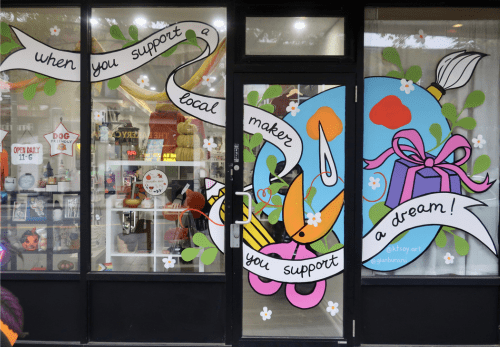 "We're delighted to return to the Junction for the fourth consecutive year with Window Wonderland. Collaborating with our local businesses and exceptionally talented artists, we are set to weave our streets into a mesmerizing open-air art gallery," shared Carol Jolly, Executive Director of The Junction BIA. "This year, in an exciting partnership with the City of Toronto Outdoor Mural and Street Art Program and The Junction BIA, we proudly introduce Trackside, a permanent wall mural poised to spring to life during Window Wonderland and well into the future."
Crafted by talented local emerging artist Megan Oldhues and brought to life through animation by Benjamin Mitchley, Trackside (located at 2945 Dundas St W, rear) is a vibrant mural that seamlessly integrates itself into the heart of the Junction neighbourhood, becoming an integral part of the community's daily tapestry.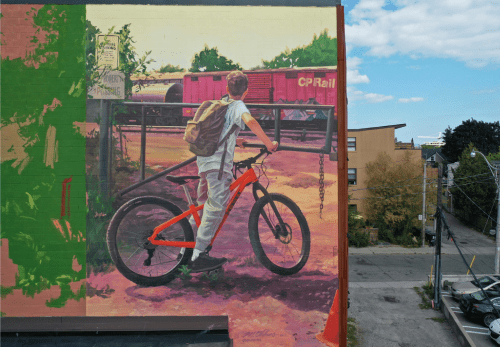 In addition to the spectacular window displays and wall murals, The Junction BIA has partnered with ARTiculations Art Supply to host an indoor exhibit showcasing select pieces of artwork from our muralists. The exhibition will occur during Window Wonderland from November 24 to January 31, 2024, and allow the public the opportunity to purchase the muralist's artwork, with 100% of proceeds going directly to the artists. 
To further position the Junction as a leading hub for art and design, the BIA has partnered with award-winning dance company CORPUS for a special, family-friendly performance of The Alpine Merry Sheep Choir. Visitors can catch this free, heart-warming street performance of sheep singing Christmas carols on Saturday, December 16th, from 2 – 4 PM, beginning at Heintzman St and Dundas Street W.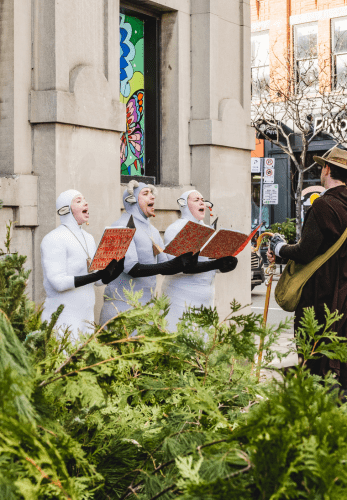 Window Wonderland was awarded the 2022 International Downtown Association's Award of Excellence and Recipient of the 2022 TABIA Events Award. For more information on this year's event, including participating window partners and artists, please visit torontojunction.ca/window-wonderland-2023.
ABOUT THE JUNCTION BIA
The Junction BIA, a community-focused non-profit, is committed to enhancing our neighbourhood's economic and cultural vibrancy. Situated between Dundas St West and Keele St, from Indian Grv in the east to Quebec Ave in the west, we create a secure, thriving environment where local businesses prosper. Rooted in our history as the original commercial hub of the West Toronto railway community, the Junction remains the city's cherished meeting place.
For more information, please contact:
Stacey Fishman
stacey@staceybrookepr.com
647-919-3474 (mobile)
or
Carol Jolly, Executive Director, The Junction BIA
carol@torontojunction.ca
416-561-3683 (mobile)