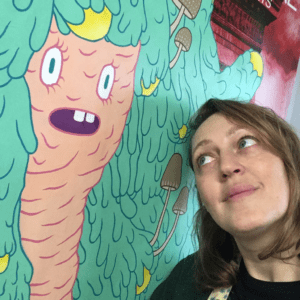 Stephanie Avery
Stephanie Avery is a Toronto-based multidisciplinary artist with a degree in visual art from York University. With an emphasis on interactivity and empowerment, Stephanie's practice intervenes with familiar spaces, objects and imagery to imbue her subjects with new meanings and narratives. Being especially interested in our collective relationships to the spaces we inhabit, Stephanie explores the world with an equal balance of joy, curiosity and skepticism: a balance she strives to represent in her practice. Her work is both playful and critical, and nothing she does is without a hint of mischief.
Stephanie has exhibited widely within Toronto, from the dark nooks of Kensington Market to the bright walls of the Museum of Contemporary Art. Relatively new to the world of mural painting, Stephanie is honing her skills in a local abandoned building that she has permission to transform into her 3-dimensional mural playhouse, slowly but surely covering every inch with her artistic creations. Additionally, she recently celebrated the first anniversary of her new venture, A Very Studio and Gallery, at 62 Geary Ave, to which you are more than welcome to make an appointment to visit.
Learn More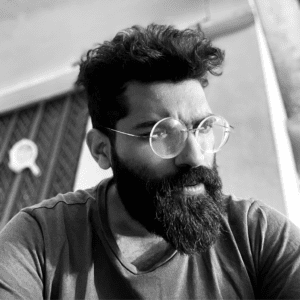 Ansh Kumar
Ansh Kumar is an Artist focused on generative art, analog sculptures, and augmented reality installations. With a background in architecture, he combines his experience in space and media design to create interactive artworks. 
Ansh has directed his research toward a canvas that acts as a catalyst to celebrate human traces and their implications, creating canvases to interact and create. Theories of the human mind and perceptions are at the centre of his installations, AR experiences, and digital exhibitions. Fascinated by colour theory, motion design, cognitive psychology and research, he experiments through immersive installations combining sound, bio-sculptures and AR.
Ansh has previously exhibited internationally at festivals and residencies at the Miami Art Basel, New York (Ars Electronica), Paris (CADAF), Austria, Goa, Delhi, Toronto and Tokyo. He has been an official AR creator for Snapchat and Meta and associated with Brands such as 20th century Fox, Coca-Cola Canada and Adobe. Ansh, in collaboration with his brother, initiated 'Tiny Farm Lab' – a space for Cross-stitching Design, Art, Science, Tech Natural building, Bio-materials and Economics.
Learn More