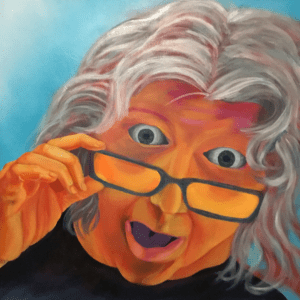 Karen Roberts
Karen Roberts is a multidisciplinary artist working in acrylic, latex and aerosol paints; digital and film-based photography, clay, mosaic, found materials, animation and augmented reality. She exhibits her work in the public realm as painted murals on walls, roads, utility boxes, sheds, pillars, and windows, as well as digital illustrations and photographs applied to various surfaces. 
Karen is inquisitive, always learning, experimenting, and figuring out new ways to use technology and materials. She tells stories about the environment, nature, the body, movement, and dance in many of her works. Before pursuing her visual art, she had a career in still photography, audio/visual technology video and multimedia production. She exhibits work in art shows and galleries and sold both photography and paintings to private art collectors.
Learn More
Francesca Fini
Francesca Fini is an interdisciplinary artist working with experimental cinema, digital animation, new media, installation, and performance art. Her many and varied projects – often addressing issues related to femininity, the distortions in the perception of beauty, the influences of society on gender and women's issues — are a mix of traditional and digital media, lo-fi technology, 3D animation, homemade interaction design devices, and live audio/video. Her work has been presented in many influential international festivals and venues. 
Among them: the 2011 WRO Biennale in Poland, NordArt International Art Exhibition in Germany; at FILE Electronic Language International Festival in Brazil; at CYBERFEST in Russia; at Instants Vidéo Numériques et Poétiques in Marseille; at BORDER CROSSING collateral event @ MANIFESTA12 in Palermo; at the Guggenheim Museum in Bilbao for MEM Festival; at MANA Contemporary for BODY + CAMERA FESTIVAL; at MACRO and MAXXI Museum in Rome; at SomoS Art House in Berlin; at the Japan Media Arts Festival in Tokyo; and the Margaret Guthman Musical Instrument Competition, organized by the Georgia Institute of Technology in Atlanta.
LEARN MORE