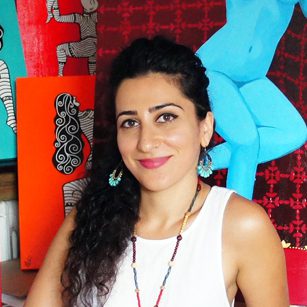 Ghazaleh Rastgar
Ghazaleh is a multi-disciplinary artist based in Toronto. Born in Shiraz, Iran, she moved to Toronto at the age of 14. After graduating from the OCADU with a Bachelor of Design, she worked a corporate job for seven years before deciding to dive back into her original plan of working as a full-time artist.
She creates colourful and whimsical paintings, murals, digital art, and GIFs that focus on life as a woman, love, and spirituality. Since being awarded and published numerous times, she had a solo exhibition, and her GIFs featured in the CBC Arts show, Exhibitionist.
Artist Inspiration
"I wanted to paint a tropical and warm setting to offset the cold of winter and since this is an art store, I thought it would be a great idea to show the central character painting the scenery. To emphasize the products even more, she's surrounded by art supplies and even the flowers are made up of crayons and acrylic paint tubes."
Learn More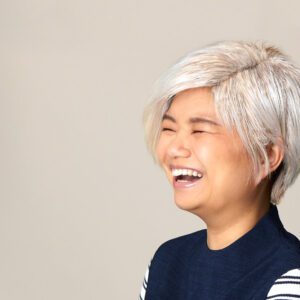 Wai Yee Ng, Gwen
Gwen is a Toronto based Motion Artist who born in Hong Kong and moved to Toronto in 2018.  She completed her Bachelor's Degree in Animation at City University of Hong Kong.  Following graduation, she pursued a career in the creative industry as a Motion Graphic Designer.  She is also passionate about sketching, her favourite subject is human figures. She has studied visual art for over six years by exploring various art mediums from brush and ink to new media.  Her work style is described as dynamic and sleek in motion, yet she is simultaneously raw and intense in her drawings with her expressive strokes.
Learn More