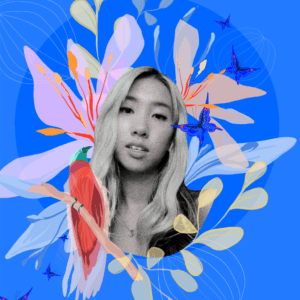 Avril Wu
Avril Wu is a multidisciplinary artist and designer based in Toronto. She gained recognition for her playful, colourful illustrations often seen on food/beverage packaging and murals on the streets of Toronto. 
Born in Malaysia and raised in Toronto, Avril is the most influenced by the breathtaking landscapes and cultures she has encountered throughout her travels around the world. With a vibrant, geometric aesthetic, Avril mixes dream-like doodles, simple iconography and clean-cut shapes, creating imaginative worlds and characters. In addition to mural work, Avril has adapted her illustrations to various industries and brands. Notable clients include Tim Hortons, Wattpad, Absolut Vodka, The Delta Hotel, Collective Arts Brewery, Smorgasburg, City of Toronto and Rendezviews (The Ballroom Toronto).
Learn More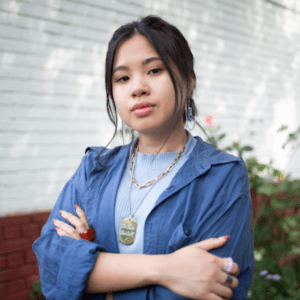 Maria Than
Maria Than is a British-French-Vietnamese creative technologist, activist and educator, and Instagram Augmented Reality Filter Creator (@blurbnation) at the intersection of art, technology and activism.
Maria works on projects for social good, such as being a fellow at CRIN to work on a period education campaign, running workshops, installations and panels at Tate Modern with the Digital Maker Collective and NGOs such as Privacy International and Big Brother Watch, introducing audiences to surveillance, facial recognition, deep fakes, Artificial Intelligence and children's rights.
Maria's work is playful, interactive, and narrative-based. She enjoys experimenting with various mediums, from AR to AI-generated images, to building video-game arcades, illustration, animation, coding and research. In addition, she demystifies creative technology to underrepresented communities and women of colour through workshops she co-hosts at Ricebox Studio, a practice using design and innovative tech for social good, which she co-founded. Her work has been showcased in the UK, such as in London (Truman Brewery, Copeland Gallery, Tate Modern) and Halifax (Dean Clough Galleries) and most recently in Paris (CADAF 2021) and New York (Superchief Gallery NFT). In 2021, she became a Fellow at the Royal Society of Arts, an award based on her recent work on period education and augmented reality. Maria is currently the digital designer at Child Rights International Network, a part-time tutor at Sheffield Hallam University BA in Graphic Design, and works at Ricebox Studio.
Learn More