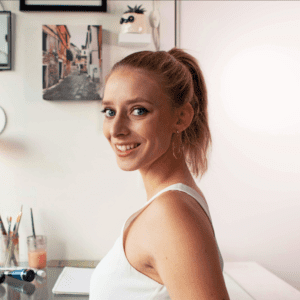 Rachel Babineau
Rachel Babineau is an artist and designer based out of Toronto, Canada, where she attended OCAD University for Material Art and Design and received her BDes. in 2015. Rachel uses many mediums in her work which most often take the form of acrylic or mixed media paintings, digital and traditional prints and murals. In addition, her love of fashion and education in textile design influences her fine-art practice, where she incorporates textile techniques such as block printing, repeat patterns and beadwork.
Inspired by the beauty she finds in everyday moments as well as popular culture, the subject matter of her work often includes fruit, plants, and animals. Rachel's work is colourful and expressive; its goal is to bring joy to the viewer and beauty to the world.
OCAD U's Project 31 auction and House and Home Canada, Toronto Home, and Collections Magazines included Rachel's work in 2017. In addition, Rachel is involved in art education and community art outside her fine-art practice. She teaches art in schools through Dare Arts, has been a guest speaker at Conestoga College, and has created Peel & Reveal Murals, a new way of approaching collaborative community art.
Learn More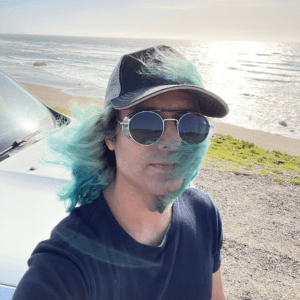 Sabin Timalsena
Sabin Timalsena is a Nepali creative technologist/generative artist, and computer programming is their primary artistic tool. Their work utilizes algorithms, mathematics, and real-time computer graphics to create unique patterns, animations, and interactive experiences. 
Sabin has worked on various projects ranging from simple laser-cut geometric crafts to complex mixed-reality projects. In addition, their interactive/video work has been exhibited in multiple venues: as part of Shine on Seattle light art exhibition, in various local art events in Seattle, and as part of the Neo Shibuya TV exhibition in Tokyo.
Learn More