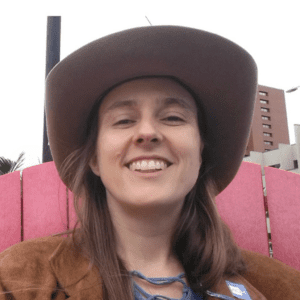 Elizabeth Jackson Hall
Elizabeth Jackson Hall is a Toronto painter who has recently taken her sizable experience from the canvas to the wall in the form of public murals. 
Since graduating from the Ontario College of Art (1996) and at the University of Toronto (1998), she has exhibited commissioned portraits, landscapes and still-life paintings at the TOAE, the Bloor West studio tour and in the storefront window of her Annette Street studio. 
The Mad Dog Gallery outside Picton, Ontario, has displayed her work since 2000 and remains her representative outside her studio. E J Hall has also been employed in church restoration with FPD (Fine Painting and Design) from 2004 to 2006 and has executed various ecclesiastical commissions for churches in Canada and the States. 
In 2015, she formed the art collective Wunderkabinette with her long-time friend and patron, Steve Loretta. Together they specialize in paper mache and sugar skulls for day of the Dead celebrations. She also co-founded Art 2B with fellow artist and friend Tipera Cleveland, an inclusive West end drawing group that, pre-COVID, gathered at the Golden Gecko to draw in public and encourage others to do the same. 
Currently employed as an art instructor at the newly reopened Artworks art school, she continues to paint and accept commissions, including murals. She is also an active member of the Ontario Society of Artists.
Learn More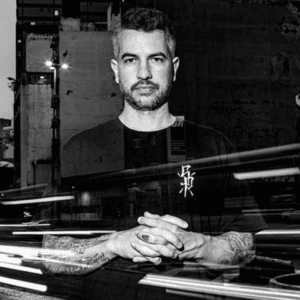 Henrique "EDMX" Montanari
Henrique Montanari, aka EDMX, was born in São Paulo, Brazil, in 1977. He has a Master's degree in Fine Arts from the University of São Paulo and has worked with design since 1996. In 2002 he moved to Toronto, earning a postgraduate in 3d Digital Animation at Seneca College.
He moved back to São Paulo in 2004 and began to work with animation, collaborating with many studios between Brazil, England, and the US. However, the corporate work took too much time out of his life, so after ten years of working with animation and sitting in front of the computer, Henrique decided to change and use his knowledge of multiple platforms to dedicate himself more to his artwork production.
EDMX is the only South American artist featured in the book Street Art in times of Corona 2020 by Graffittobooks. He's a Finalist at Arte Laguna 16th (urban art); First prize at the Global Art Awards 2018 Dubai( Mixed Media); Spotlight Artist at Arte Laguna 15th; Finalist in Global Art Awards 2020 Shanghai (Mixed Media); 3rd place in the American Art Awards 2018 (Pop Art and Innovative); 2nd and 3rd place at the American Art Awards 2017 ( Pop Art and Acrylic Human Figure; 3rd place (Innovative and Pop Art) and 5th place (Expressionism — Human Figure) at American Art Awards 2018. He was also invited to paint and do animation at several art festivals around the world, such as Meeting of Styles (German 2022, Kosovo and Miami 2019), Window Wonderland 2021 (Canada), Step in The Arena (Netherlands 2017, 2018), MAAAU 2019 — SP (Brazil), Mood Indigo Festival 2019 — Mumbai (India), Território de Arte Urbana TAU 2019 — BH, 3 Mundo Graffiti Park — SP (Brazil) 2020.
At the 5th Bienal Internacional de Graffiti Fine Art 2022 in São Paulo, EDMX exhibited his sustainable installation with 800 recycled spray cans. In addition, his work can be found worldwide in titles such as 2020 Beyond Words: A Street Art Guide to a Breathtaking Year and Chaos on Canvas.
Learn More