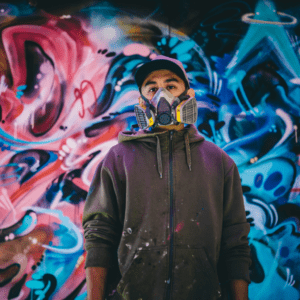 Chris Perez
Chris Perez is a Canadian-based Filipino artist practicing abstract painting and mural art. Perez pushes moments of arbitrary movement to create an inner dialogue with material and environment, like that of an abstract dance with painting. His influences are derived from street art, graffiti, murals, abstract art, and expressionist painting. He explores ideas behind personal and cultural identity using an abstraction that touches and uses the aesthetics and shapes of florals. Perez primarily uses latex, acrylics, and spray paint as his primary mediums. He is currently developing a series of artwork revolving around public art and accessibility.  
Learn More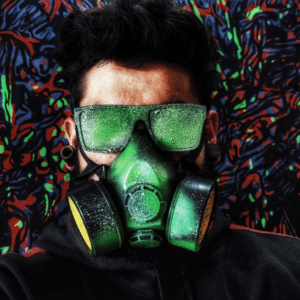 Luan Rodrigues
kambô.kambocito is an artist from the Brazilian Amazon. Their work mixes ancestry and imagery elements of everyday Amazonian life through illustrations, paintings and murals that interact with visual effects, video mapping and augmented reality.
They have developed a process of imagery decolonization, bringing visual elements of fauna and flora, as well as spellings from the peoples originating in the forest and icons of pop culture of the Amazonian cities. The intent is to preserve both traditional cultures and the environment through the valorization of the daily visual elements of their region. The Amazon is one of humanity's most important assets, and its preservation will only occur if its inhabitants feel valued and the rest of the world integrates into this idea.
Learn More