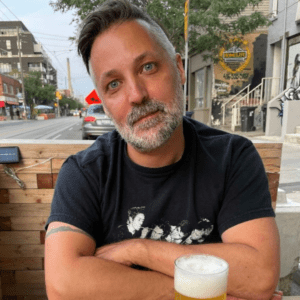 Tyson Bodnarchuk
Originally from Winnipeg, Manitoba, Tyson moved to Montreal, QC, in 2003. There, he worked as an illustrator/artist and opened and operated Headquarters Gallery & Boutique. For five years, every month, the gallery showcased artists from all over the globe. However, as of the summer of 2019, Tyson has made Toronto, Ontario, his home.
In 2000 he began exhibiting as an artist, working with galleries from all over the world. In the past twenty-one years, he's had eight solo shows and participated in over one hundred group and collaborative exhibitions. His favourite medium is watercolours and inks, but he also works with acrylics and loves to create digitally. When he's not working with a brush or pen, Tyson also designs and sews large-scale creature masks and puppets. Drawing influences from Jim Henson, Maurice Sendak, Jack Kirby and a healthy diet of sci-fi and horror culture, Tysons subject matter tends to cross the line from creepy to cute.
Learn More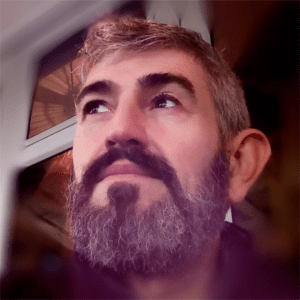 Benjamin Mitchley
Benjamin Mitchley is a South African fine artist. He studied fine arts from 1985 to 1987 at the Vaal University of Technology and Tshwane University of Technology.
He is a full-time fine artist, scenic artist, illustrator, and 2D digital animator. In 2003, he exhibited his work in South Africa, and in the same year, he received his first international exposure with the South African Artist's online gallery. He had his first international art exhibition in Munich and Hof, in Germany, between 2005 and 2006.
Since then, he gained support from several art collectors in Europe, America, and South Africa. From 2004 through to 2016, he furthered his scenic experience while working in Dubai and South Africa on several industrial, film and television scenic art projects.
Since 2010, as a self-taught animator, he received recognition for a short film created for a SABC documentary and animation collaboration projects for corporation infographics.
In 2013, he received a first-place award for a medical animation competition for the Iheed Institute. Poetry and writing developed from his fine art, illustration, and animation creations, such as comic books, animated poems, and an illustrated poetry eBook.
In 2019 with the introduction of augmented reality to his artworks linked to the ARTivive App, this medium has taken him on a new journey with exhibition collaborations with the Artivive company and his participation in the 5th Ranetas VR Fest in Alcaniz, Spain. 
In 2020, he was chosen as one of 10 international artists for the UN & Artivive Augmented Reality Peace Poster design to be exhibited at the UN secretariat building in New York. His search for new ideas and experimentation with new techniques, styles, and media is ongoing.
LEARN MORE