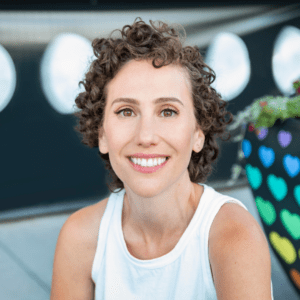 Bareket Kezwer
Bareket is a muralist, community-engaged artist and facilitator, curator, cultural producer, graphic designer, frequent collaborator, and eternal optimist.
Her multi-disciplinary practice is motivated by a desire to spread joy, cultivate gratitude, celebrate the power of kindness and compassion, and support the growth of inclusive and connected communities. She programs and facilitates projects that enable people to express themselves through creative engagement and increase the representation of Toronto's diverse population. In her murals, she works with bright colours and bold patterns to captivate people's attention and fill them with delight.
In 2017, she founded Women Paint, a street art jam celebrating the strength, resilience, and diverse stories of women and non-binary artists and community members. As the initiative's creative director, she has produced over 100 murals by emerging and established artists and facilitated intergenerational community murals and mural camps with youth.
Learn More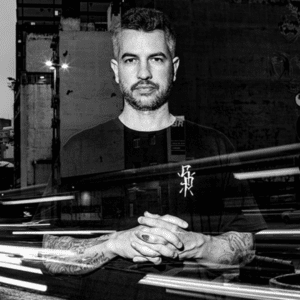 Henrique Montanari
Henrique Montanari, aka EDMX, was born in Sao Paulo, Brazil, in 1977. He has a Master's degree in Fine Arts (University of Sao Paulo) and has worked with design since 1996. In 2002 he moved to Toronto, earning a post-graduate in 3d Digital Animation at Seneca College.
He moved back to Sao Paulo in 2004 and began to work with animation, collaborating with many studios between Brazil, England, and the US. However, the corporate work took too much time out of his life, so after ten years working with animation and sitting in front of the computer, Henrique decided to change and use his knowledge of multiple platforms to dedicate himself more to his artwork production.
Henrique is the only South American artist featured in Street Art in times of Corona 2020 by Graffittobooks. He won first prize at the Global Art Awards 2018 Dubai, category Mixed Media; Spotlight Artist at Arte Laguna 20/21; Finalist Global Art Awards 2020 Shanghai, category Mixed Media; 3rd place on the American Art Awards 2018, category Pop Art and Innovative; 2nd and 3rd place at the American Art Awards 2017, category Pop Art and Acrylic Human Figure; 3rd place (Innovative and Pop Art) and 5th place (Expressionism — Human Figure) at American Art Awards 2018. He was also invited to paint at one of the most important Graffiti Festivals in the Netherlands, Step in The Arena 2017 and 2018, MAAAU 2019 — SP (Brazil), Meeting of Styles KOSOVO/MIAMI 2019, Mood Indigo Festival 2019 — Mumbai (INDIA), TerritÛrio de Arte Urbana TAU 2019 — BH, 3 Mundo Graffiti Park — SP (Brazil) 2020.
His work has been published and shown in many galleries and streets around the world.
LEARN MORE