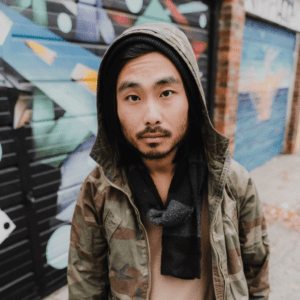 André Kan
André Kan is a Toronto-based painter. Since graduating from the Ontario College of Art & Design University in 2014, he has continued his creative pursuits as an Artist, Muralist, Photographer, Curator, Producer, and Musician. His paintings are showcased globally, with permanent collections in the USA and China. His murals can also be seen internationally, including in the United Kingdom, Spain, Portugal and Taiwan.
Enlivened by his interest in spatial structures and interconnectivity, André Kan's paintings serve as excitable blueprints for a possible reality. Each work depicts his signature creative building blocks that converge and begin to build upon each other, strengthening each other towards an ever-transforming space. Kan's structures are substantial and complex but not yet anchored — they float suspended in his psychological space. In this way, Kan's buildings remain a playful proposition for the viewer not yet tied to a specific place or function. With his dynamic formations, Kan propels us towards an ever-optimistic future where new connections and constructions have yet to materialize.
His current work investigates the architectural interpretations that respond to our ever-advancing society and suggests what 'possibility' means through self-discovery. It is essential to examine what mark-making and its properties mean and the significance of cause and effect. Kan's psychological structures depict the change and evolution of space while also questioning the fundamental nature of being and the world that encompasses it.
Learn More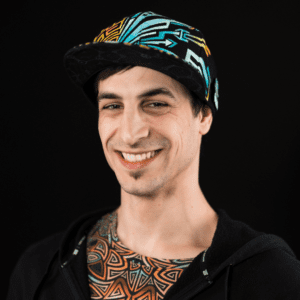 Jonathan Petrou
Jonathan Petrou (JonnaP) is an American graphic and motion designer based in the Midwest United States. He has been consistently inspired by incredible audio/visual talent and has always strived to create something that evokes the same response. Fourteen years ago, his journey through motion began with stop motion animation followed by hand-drawn flash animation. Before long, he learned keyframing and 3D in After Effects, utilizing assets made in illustrator and photoshop to bring his art to life. He found himself incorporating his knowledge of each media to encompass the vision for his animated content. Most of the work is intended for concert/festival visualizers, but the augmented reality endeavour has allowed visionary animators like himself to blossom in new fashions.

Jonna's content explores creative journeys with a significant focus on closed-eye visual replications to create a melded audio/visual experience where people can see and hear the visuals and sounds. Attention to detail means to lure an individual into the artwork and drive the viewer's eyes around the piece. Drawing inspirations from ancient cultures, science fiction, nature, technology, and space, he strives to create an authentic experience that stands in people's memories and inspires them to be the next wave of outstanding visual artists.
Learn More